Fresh Breathes New Life Into Fragrance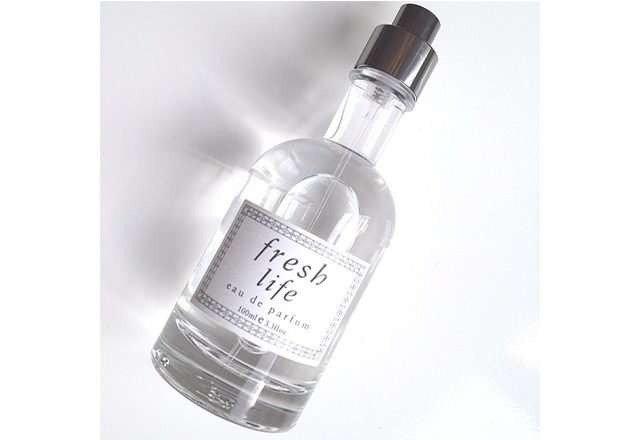 Imagine a world in which you could custom-order mashups of your favorite things, much like walking into a Starbucks for a latte. . . with pumpkin spice. My shopping spree would go something like this: at the fabric store, I'd order beige velvet sham covers, laced with Bergamot scent for my bedroom. Can you imagine falling asleep to that sensorial combo? Then I'd hit up the florist for a bouquet of lilacs that shimmer with the scent of glitter and morning dew, even at night. Oh, and while there, I'd grab some vanilla-infused grass to create a fragrant doggy bed for Trixie. 
"I awake in the early morning to the damp earth, cool and breathing beneath my toes. . .I am revived. I am reinvigorated. I am Fresh." - Lev Glazman
As whimsical as that fictitious shopping trip seems, it came to life when I spritzed
Fresh Life Eau de Parfum
. The fresh blend of notes sparkle and twinkle yet ground you at the same time. Fresh founder
Lev Glazman
set out to create a fragrance that captured the ultimate Fresh moment. The composition consists of four layers, rather that the traditional three tiers of top, middle and base notes. The first layer, inspired by earth, combines Velvet Bergamot, Vanilla Grass and Dreamy Cypress. The next, a tribute to the sun, combines Silk Amber, Warm Orange and Tonka Flowers. The third layer, an interpretation of air, combines Grapefruit, Lilac Leaves and Transparent Magnolia. And the final layer, a blend of watery notes, includes Sweet cucumber, Sparkling Moss and Morning Dew.
Lev grew up in Communist Russia, where the only fragrance available was Red Moscow. He remembers tagging along with his mother, as she risked everything to shop the black market for a French perfume, which was strictly forbidden in Communist Russia. "Only the bravest women would find a way to get their hands on a forbidden French fragrance. It amazed me how much she was willing to risk to buy the perfume. This was a defining moment in my life. I realized the importance that fragrance plays in people's lives and how it can instantly make them happy and feel special," Lev said.
"I awake in the early morning to the damp earth, cool and breathing beneath my toes. The fog curls across the pond like the softest cloud; the air is infused with a sweetness. As the rising sun spins everything into sparkling silk, I walk quietly into velvety water, taking care not to disturb the purity of this still moment. As I swim, I imagine that I am flying, the water is my blue sky, full of hope and possibilities. I am revived. I am reinvigorated. I am Fresh."
I consider this olfactive opus a spritz-on vacation. Warning: Once you experience this new scent, you might be compelled to listen to the "
Fiddler On The Roof
" soundtrack on a loop.
The Fresh Life collection includes:
Fresh Life Eau de Parfum, $80
Fresh Life Candle, $55
Fresh Life Body Oil, $48
Fresh Life Eau de Parfum is available at QVC.com. The full collection will be available in November 2013 at Fresh stores and www.fresh.com.
Keywords
Get the latest beauty news and inspiration!
Sign up for our newsletter to receive the latest from Beauty Blitz delivered straight to your inbox.