As April showers turn to muggy days, I'm looking back to the Spring '11 runways for hair inspiration. Big, poofy, brushed out texture made a strong showing at Marc Jacobs, Marc by Marc, Carlos Miele and Topshop Unique, among others, and not only does this look work mah-velously with the seventies styles taking over stores this second, it's perfect for all the humid weather ahead.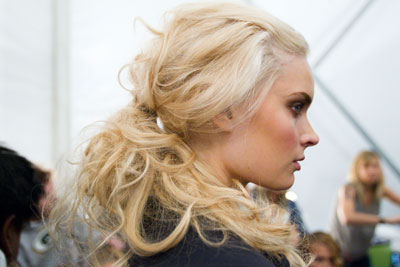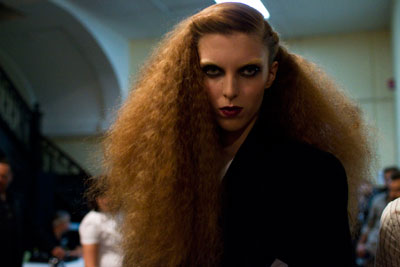 Top: Backstage at Carlos Miele's Spring '11 show. Bottom: Mega mane at Marc Jacobs. (Both photos: Mat Szwajkos / Beauty Blitz)
Backstage at Marc by Marc Jacobs, we learned that the fuzzy 'do is doable on any hair texture - provided you have the skill and patience to rickrack your strands on many dozens of bobby pins.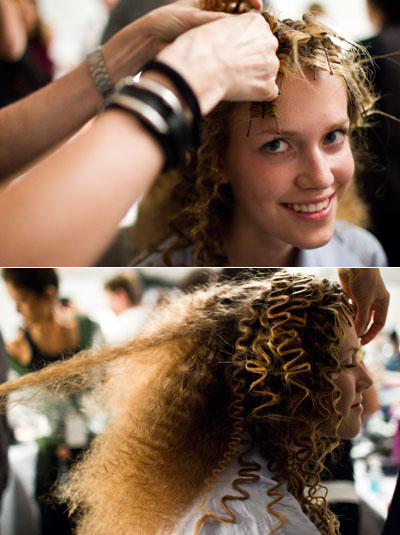 (Photos: Mat Szwajkos / Beauty Blitz)
 But there's an easier way: hairspray. It's got to be the right one; skip anything that says "shine-boosting" on the bottle and head straight for the volumizing formulas. Redken Quick Dry 18 is a personal favorite. Sally Hershberger's Salon Texture Blast is another recent discovery; when I visited Sally Hershberger Downtown salon last week, amazing hairstylist (and effortlessly cool Frenchwoman) Frederique introduced me to the stuff. I walked out of her chair with the most amazing airy textured curls. Frederique, who was wearing her hair straight, told me she used it to texturize her strands, too - so don't think you need to be sporting ringlets to reap the benefits.
Kate Hudson even sported the fuzzy look in this photo shoot for InStyle's May issue. She's totally pulling it off, no?
Kate Hudson for InStyle. (Photo: Michelangelo Di Battista)
My frizz-prone friends, now's your moment: lay off the flat iron and work it, girl. 
Keywords
Get the latest beauty news and inspiration!
Sign up for our newsletter to receive the latest from Beauty Blitz delivered straight to your inbox.