Glitter Ombre Nail Art with Essie Luxeffects
I'm a DIY nail art admirer, but always from afar. I just don't have the dexterity to pull off two lovely and matching (key word!) hands, so I just like obsessing over other people's abilities to create intricate tribal prints or abstract designs on both hands. But I do love sparkle, and that is the one thing I like to play with when it comes to nail art.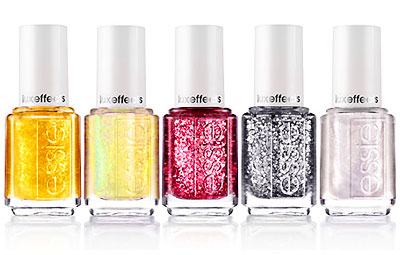 That's why I'm dying over Essie's Luxeffects collection for Holiday 2011. These five bottles range from chunky glitter to fine sparkles, and they're all made to be used as top coats to add glitz to any nail color. Although, using them alone would be gorgeous, too!
Essie has never really dabbled in full on glitter polishes, so it's an exciting collection for many reasons. As Gold as it Gets is made up of fine pieces of gold glitter, while Pure Pearlfection adds a touch of irridescence to your favorite polish. Shine of the Times is made up of irregularly shaped pieces of opalescent sheen, and A Cut Above and Set in Stones are both made up of varying sizes of chunky glitter in pink and silver.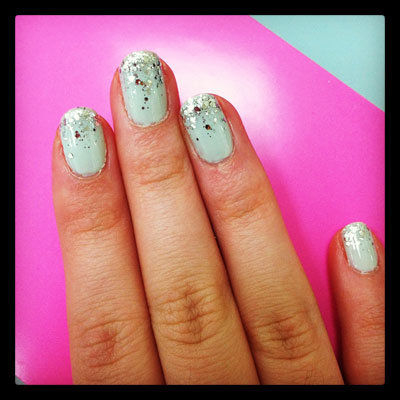 My personal favorite is Set in Stones, which I used in the image above to create an ombre glitter effect on top of Essie's Absolutely Shore from Spring 2011. You don't need serious skill or precision, and the glitter has more than enough clear polish mixed with it to give you a good ombre effect. Sparkly tips are my new go-to mani, and now there's five new ways to do it! The shades launch in December - just in time for holiday parties.
Keywords
Get the latest beauty news and inspiration!
Sign up for our newsletter to receive the latest from Beauty Blitz delivered straight to your inbox.