Hair Salon Etiquette: 5 Helpful Tips from Celebrity Colorist Rita Hazan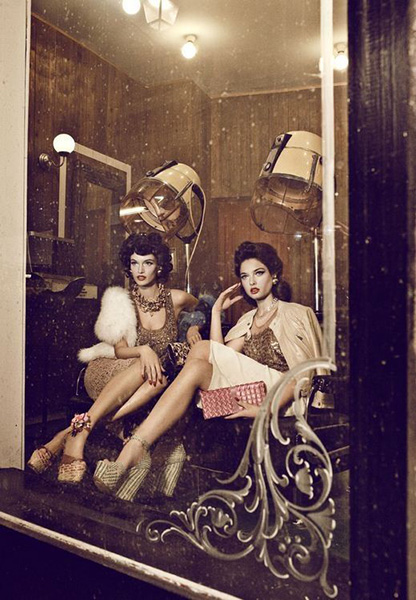 Photo by Signe Vilstrup for Vanity Fair
Maintaining a friendly relationship with your hairstylist and colorist is easy when you've got the proper salon etiquette. Communication is key, but often we're too afraid to speak up to the person doing our hair if we're dissatisfied. This usually end in tears. As a celebrity colorist and owner of her own namesake salon in NYC, Rita Hazan wants to shed some light on proper salon etiquette during the holidays and beyond. Follow these five helpful tips on tipping, switching stylists and speaking up when you're unhappy with your look to make salon appointments much more enjoyable — for both you and your stylist. Plus, these tips are also helpful for other beauty services like manicures and spa treatments. 
1. Telling your stylist or colorist that you are unhappy 
"If you end up leaving the salon unhappy with your cut or color, but have been seeing the stylist or colorist for many years with only one upsetting experience, go back to get it fixed," says Hazan. "Tell your stylist or colorist in a calm way that you are unhappy with how the look turned out, and he or she will be understanding. However, if it's your first time with someone and you really don't like how it turned out, I would suggest doing some research and finding a new person. It's worth to pay a little more and get your hair fixed properly. If it is a minor adjustment, I'd go back and have it fixed with the same person. If you get a redo, it isn't necessary to tip, but most people do." 
2. Switching stylists at the salon
"If you want to switch stylists at the salon, that if fine – it is your hair and your money. You should never feel bad about making that decision. You can always walk up to a stylist or colorist and mention that you like trying everyone because the salon is so good." 
3. Tipping washers and technicians
"I suggest tipping $5 for washers, if you are getting a wash with no add-ons such as a mask, treatment or scalp massage. For technicians, tipping 15-20% is sufficient depending on how long you've been seeing that person. The level of satisfaction is also a good indicator of how much you should tip. If you are satisfied, tip 15-20%. If you are extremely satisfied, tip 20% or more."
4. Tipping during the holidays 
"Around the holidays and if you've been a longtime client, I would tip double what you normally do. If you are a newer client, it's recommended to tip slightly more than usual. I would also suggest tipping the owner of the salon because he or she is still performing a service for you." 
5. Making appointments
"The salon can get really busy, especially during the holidays, so you should always cushion at least 30 minutes so you are not under pressure and rushed during the appointment. If you are pressed for time, you can always see someone else, but be aware that it may not be the color/style you had in mind. If the stylist or colorist is running late, you can always reschedule, and definitely have a talk with the manager. You may even get a free service or discount out of it." 
Keywords
Get the latest beauty news and inspiration!
Sign up for our newsletter to receive the latest from Beauty Blitz delivered straight to your inbox.