Technicolor Tresses: Still Trending. Here's How to Get the Look
Rainbow hair color started off as a micro-trend that we assumed would die down. But a year later, the multicolored look is still going strong: witness runway looks from Prada to Peter Som, numerous editorials and celebrities like Jamie King and Chloe Grace Moretz. We asked pro colorists for the scoop on how you can rock some colorful tresses of your own.
Choosing Your Shade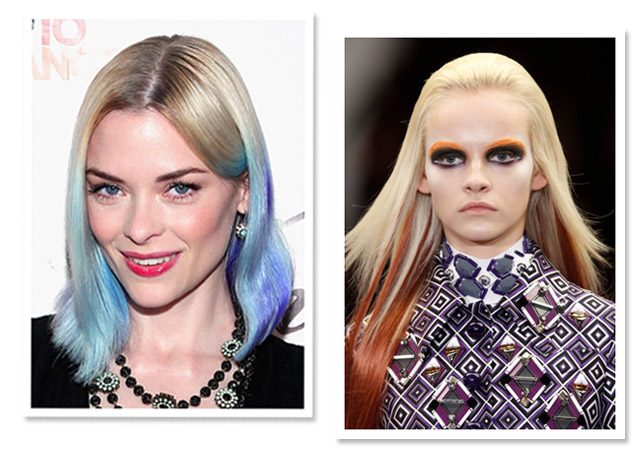 As with any color, the shade you select should flatter your skin tone, says Kathleen Firth, owner of Raika Salon in New York City. "For cool skin, you would want to stick with cool colors like purple, blue, green and hot pink," she says. If your skin tone is warmer, "reds, oranges and yellows would look the best."
Starting with dark hair? You'll need to lift the base color first for best results. "Pastel hair color requires a two-step process," says Jen Thorpe, a colorist at NYC's Sam Brocato Salon. "You first have to pre-lighten the hair, and then apply the desired pastel shade. The lighter the desired shade, the lighter the hair must be to achieve the brightest result," she explains.
Ombré dye jobs require pre-lightening, too. "Depending on the hair color you are working with, you might have to pre-lighten it in an ombré effect by having the pre-lightening be darker at the roots, then cascade down to a lighter base at the ends," Kathleen says. Once the color is lifted, "you can go in and hand-paint the vibrant or pastel shades into the hair."
Semi-Permanent Color
While lightening hair is permanent, most technicolor shades are not - which means you can change up your hue every few weeks.
With semi-permanent dye, your look can transform from bold to barely-there over the course of a few shampoos. Embrace it! "Brighter colors do fade with washing and wear, but can still look great through the changing hues," Jen says. On hair that's been pre-lightened, Kathleen notes, "the blond will begin to show through, and the color will lighten, but will more likely become warmer instead of paler."
The pros we asked recommend touch-ups every two to four weeks as color fades. To keep color vibrant, use a color-safe shampoo and conditioner. Maybe invest in a swim cap, too:  "Chlorine and seawater exposure also trigger bad reactions," Kathleen adds.
Chalk It Up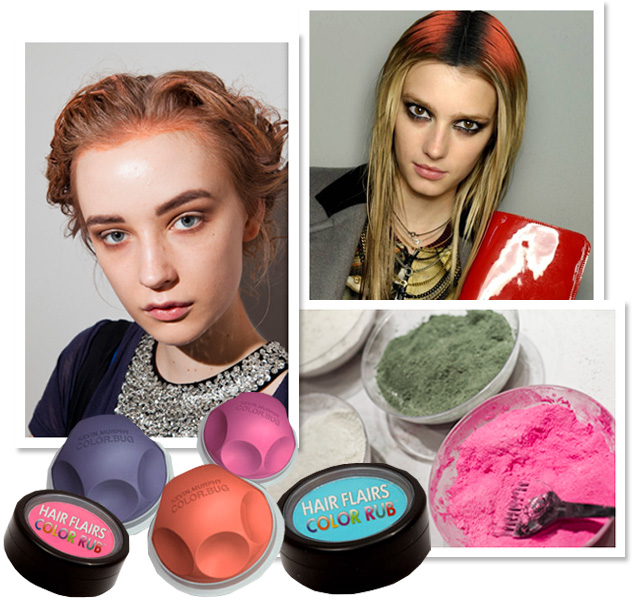 For a temporary option that's truly DIY, use colored hair chalk like Kevin Murphy's Color.Bug or Hair Flairs Color Rub. These allow you to get any shade you want until your next wash.
Before you start, cover up with a towel to avoid getting color on your clothes, and make sure you stay near a sink to wash your hands immediately after. The color is easy to get off, but you don't want it to stain. 
"Simply take the powder and rub it into the palm of your hands, place on the hair and gently rub in, starting from the roots to ends," says COLOR.BUG creator Kevin Murphy. "The process only takes a few minutes and works on any hair color or type. The more product you use, the more intense the color." Using more product is ideal for darker hair. The color will grab onto the hair better while staying vibrant. Have fun with these and create your own ombré look by starting at the tips and rubbing your way up. Or channel My Little Pony by coloring pieces of hair with pink chalk and others with purple chalk for a multicolored look. 
The color washes out in one shampoo, though very light blond hair may retain color longer. "I would suggest using a leave-in conditioner before applying the product and powder to stop any grabbing," Kevin advises. He also suggests prepping hair with product (such as his HAIR.RESORT.SPRAY or ANTI.GRAVITY.SPRAY) to "act as an adhesive for the powder."
Clip It In
If even one shampoo feels like too much of a commitment, you can rock psychedelic strands with colorful clip-in extensions, says Kyle White, lead colorist at Oscar Blandi Salon. "If you use a clip-in extension, you don't have to worry about fading or damage, and you can create different looks by changing the placement anytime you want," Kyle explains.
"As far as placement, underneath the hair is best to avoid looking fake," says Kyle. "Try to avoid the areas that show such as the hairline and by your part." We love Sultra Hair Palette Color Clip-In Hair Extensions or Mia Hair Accessories Clip-n-Dipped Ends.
Would you try technicolor tresses this season?  
Keywords
Get the latest beauty news and inspiration!
Sign up for our newsletter to receive the latest from Beauty Blitz delivered straight to your inbox.