Arabian Chic at Jeremy Scott Spring 2013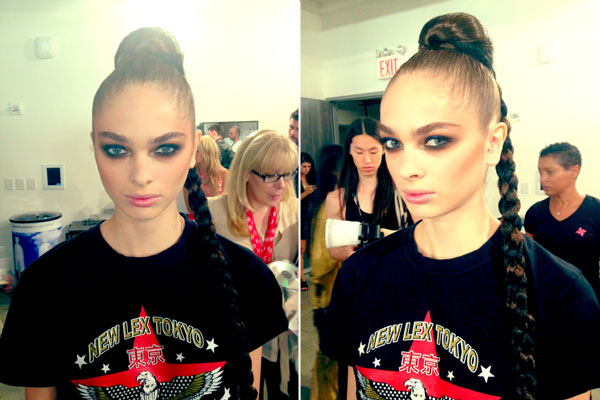 We always expect to see something out of the ordinary when we go backstage at Jeremy Scott's shows. The designer himself is always very outrageous and exciting when it comes to his collections. The same goes for the hair, nails and makeup. After seeing quite a few "au naturel" looks this season, Jeremy Scott's show is always a breath of extraordinary air and this season was no exception. 
"Arabian Chic" was the motto for MAC key makeup artist Kabuki, who created big, smoky eyes as the focal point of the look. "I was inspired by the late 1970's and early 1980's makeup, where eyeshadows are layered one on top of the other, giving the effect that colors are going in and out of focus, like a mirage in the desert," said Kabuki. He began by applying Powerpoint Eyeliner in Beautiful Brown and Stubborn Brown at the outer edges of the eyes, followed by charcoal powders and pencils at the center. A deep black was used at the lash line and a pop of metallic midnight blue eyeshadow in the center of the lid. He finished the eye look with a "tiny pop" of gold at the inner corner of the eye "for a tough of richness" and a rosy shadow over the brow. To compliment the eyes, Kabuki created a "sculpted, glowing look" on the face using Sheertone Blush in Gingerly and Goldemine. He topped it all off with a "sheer, slightly metallic lipsticks that corresponds to the model's skin tone." 
Over in hair, Eugene Souleiman for Wella created a high bun/ponytail combo "reminiscent of Sade." He started by tying a very high, very tight ponytail at the crown of the models' head and turned it into a tight bun, using plenty of hairspray to keep everything sleek, shiny and tight. Then came the fun part. Eugene added a super long, braided hair extension to the bun. One end of the extension was left loose so it could be placed over the models' existing bun. The rest of the hair was a rope braid that stuck out right under the bun. "The look is slightly Egyptian, slightly Arabic, slightly African, and has a ghetto element to it," said Eugene.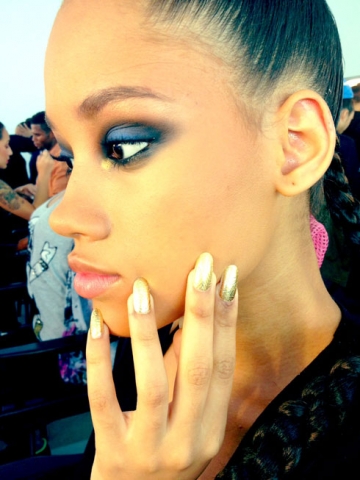 Pattie Yankee for Dashing Diva was responsible for the etched, gold lame Design Effects appliques that were created especially for Jeremy's show. "The collection has a lot of gold," said Pattie. "It's urban street mixed with luxury." She placed the appliques on longer, almond shaped tips. We're hoping that they make it into Dashing Diva's existing collection! 
Keywords
Get the latest beauty news and inspiration!
Sign up for our newsletter to receive the latest from Beauty Blitz delivered straight to your inbox.