A "Spa" Treatment for Your Stuffy Nose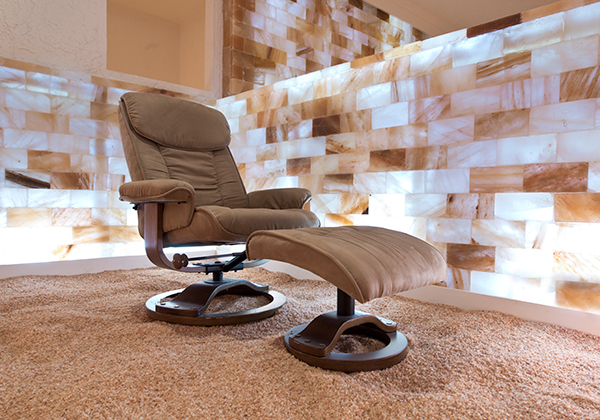 A salt therapy room at NYC's Breathe Easy.
Here in New York, it's been freezing every day for as long as anyone can remember. My parka's pockets are lined with tissues. The other day, I saw a security guard in an office building lobby who, instead of checking IDs, was passing out Kleenex to every person who entered. Everyone in the city seems to have developed a chronic runny nose. And while half of the people in my Instagram feed appear to have decamped to some tropical seaside locale where they're breathing the warm salt air through unclogged nasal passages, the rest of us can only dream of being so lucky.
But there is way to find relief, even if there aren't any vacation days in your near future. It's a spa treatment called halotherapy, the practice of using salt to treat ailments ranging from sinus troubles to skin issues. The treatment involves relaxing in a room where the walls themselves are made of salt rock and the air is infused with microscopic salt particles, which you breathe in for 45 minutes or so.
According to the website for
Breathe Easy
, a salt therapy center in New York where I recently tried a treatment, "The inhaled salt helps to reduce inflammation, widen the airways, accelerate mucus transport, soak up and eliminate toxins and allergens and strengthen the immune system." And there are beauty benefits, too, particularly for eczema sufferers: "The non-inhaled particles landing on the skin help to balance pH and induce the reparative and regenerative processes in the skin, increasing rigidity and stimulating cell growth and microcirculation." The therapy is said to benefit a range of conditions, from allergies and asthma to snoring, and can even improve sports performance by making breathing easier.
Salt therapy rooms have been steadily popping up in the U.S. for a few years now, though the idea isn't new: they're based on naturally occurring salt caves in eastern Europe, which have been used as therapy for thousands of years and are part of the same spa tradition as healing mineral springs.
At Breathe Easy, which opened on Park Avenue last spring and shares a facility with
Oasis Day Spa
, you can simply relax in the soothing vibes of the pink Himalyan salt room (it looks like a fancy lounge, except the floor is covered with rock salt), or you can book a massage in there, as I did. The week of my appointment, I'd been feeling major sinus pressure and could barely breathe through my nose. While I didn't notice an immediate difference in my breathing while inside the salt room, I could feel my airways clearing up over the next day or so. 
So does it work? There haven't been enough studies done on halotherapy for doctors to endorse its benefits, but since there's nothing harmful about the treatment, it's worth a try — especially as we enter that time of year when cold season overlaps with allergy season. And at $30-$40 a session, it's much less expensive than a jaunt to the Caribbean.
Keywords
Get the latest beauty news and inspiration!
Sign up for our newsletter to receive the latest from Beauty Blitz delivered straight to your inbox.