Hayden Panettiere's Beauty Routine: DIY Brows, Contouring Tricks & Frizz-Fighting Conditioner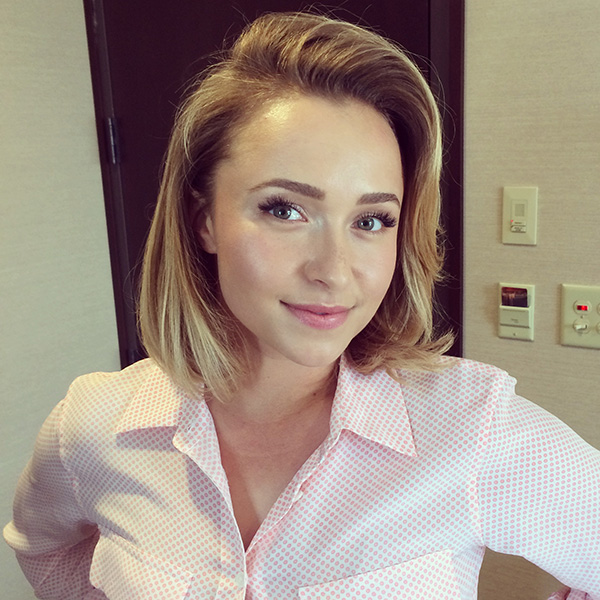 Hayden Panettiere has basically been on camera her entire life, so she knows a thing or two about looking the part. She was less than a year old when she starred in her first commercial, appeared in her first feature film by age 10, and as a teen, scored her breakout role on the NBC show Heroes. Since 2012, she's starred as country singer Juliette Barnes on the musical drama series Nashville — also the city that she now calls home and where I had the chance to ask the longtime Neutrogena face about her beauty routine. Here's what she had to say about her on-camera makeup tricks, her go-to brow guru and her recent hair chop.
On how Nashville (both her adopted city and the show) has influenced her style:
"I think my style has regressed. People just don't care [what others are wearing] as much around here. In L.A., where I lived for awhile, you always had to pay attention to what you were putting on. I used to walk my dogs in my pajamas and that came to an abrupt halt.
"My tomboy definitely comes out here.
But my routine for hair and skin has definitely had to improve because of the climate here, and because of the job.
You're dealing with a lot of humidity here, and I have really curly hair naturally, so it turns into a very large frizz ball
very
quickly. And we're constantly putting heat on it all day, and whenever we do the performance scenes or we're sweating, all my little curls come out so we have to re-blow it, re-flat iron it, re-spray it, and it's just damaging — especially with blonde hair. And so the
Triple Repair Hair Care System
has completely changed everything — I mean, to the point where the other day I got out of the shower and only had to put a tiny bit of that
leave-in conditioner
on, and it actually curled the way I wanted it to. It's important for me wash my hair more often now to re-infuse the cuticle with moisture. 
"It's the same thing with my skin. We're doing those big scenes, so 16 hours a day we're putting powder over the base, and then you reapply the base, and then you reapply the powder. You've got an inch of makeup on by the end of the day, your pores are clogged and that's why the
Long Wear Liquid Makeup
has helped so much. Not only with skin health, but the way it looks — we call it the no-makeup makeup look, you know. And you don't want to look — especially with HD cameras now — you don't want to look like you've got a pound and a half of makeup on. It's not cute! So it's helped immensely with my skin."
On dealing with busy days and early call times:
"You come to the realization at some point in your crankiness that the day is going to be the day regardless — you have to accomplish these things that you've agreed to do. And you have two choices: make it fun, or be miserable the whole day. And being miserable just makes it worse. I love green tea, and green tea's actually really good for your skin and good for your body, so I'll definitely throw some of that down my throat. We play good music — upbeat, really fun, dance-around music. Rihanna, Katy Perry, Beyoncé. If it's a real crack of dawn day we might migrate from, like, Missy Higgins to a more upbeat kind of sound.
"Sometimes I'll turn the shower on cold, which is also great for your hair because it closes the cuticle. If you want your hair to be shiny, you put the conditioner in and leave it in for a bit and rinse it out with some cold water — really cold water, as cold as you can stand. You don't have to put your whole body in, but if you want to wake up, you can.
"There's also the
Invigorating Foaming Scrub
, which has that cooling mint in it, and that definitely wakes you up. And we have those
Rohto eye drops
, those minty ones. They definitely wake you up. Maybe do some jumping jacks, breathing exercises. And then I make them drag me out!"
On chopping off her hair:
"It was so fried. It was so, so fried that I was just like, you know what? There's just no nursing this back to health. I have start over again. And I've enjoyed a couple times chopping my hair off. This would be the third time I chopped my hair off. It's fun to start from scratch and really take care of it, and when it does grow out, grow out long and healthy and not have to do that over again.
On playing up her features:
"I either choose eyes or lips — one or the other. I'm also a big fan of eyebrows. I've learned how to do my eyebrows. I haven't gotten to see my girl
Anastasia
 [Soare] in a long while, because she's in L.A., and she's a genius with eyebrows. So I'm sure she's looking at me on the show going, 'Ooh, girl, what are you doing? You need to come see me.' But I do the best I can — at least I can fake it. But those can definitely get wily.
"It's so funny, because what somebody looks like in person is not going to be the way that they photograph all the time. Some people photograph identical; some people photograph better than they look in real life, and some people the opposite. 
"It's really interesting working with my face, because I feel like my nose looks very symmetrical in person, but then for some reason a certain angle or a certain flash can make it look a little crooked. And I'm not complaining by any means, but it's just figuring out — because I have to be in pictures and be on camera — that I've had to work it out and figure out my angles for sure. Sometimes I'll take the bronzer — they have that great
blush and bronzer duo
— and I mean, great for the cheeks, great to give you that sunkissed glow, but I also like to take the crease brush, and I'll tap it in the bronzer, just a tiny bit, and just brush it down the sides of my nose a little bit. You have to make sure it's blended and you don't see anything there, but on camera it can definitely help to elongate if you want, or just make it a little more symmetrical in pictures. 
"There's a lot of tricks. Like if you put a little bronzer right in here [below the bottom lip] it gives you the pouty look. Love the highlighter on the top [of the lip]. I don't even do just the top of the lip, I do the whole thing, make sure it's blended. But it almost acts as lip liner, and then you put your lipstick over it, or your lip gloss. And you can put that down the bridge of your nose as well. Bridge of nose, around the lips, under your eyebrows and on the cheekbones — it gives you a nice glowy look."
Photo by: Wendy Rodewald-Sulz
Keywords
Get the latest beauty news and inspiration!
Sign up for our newsletter to receive the latest from Beauty Blitz delivered straight to your inbox.