Honey Do: The Sweetest Skin Masks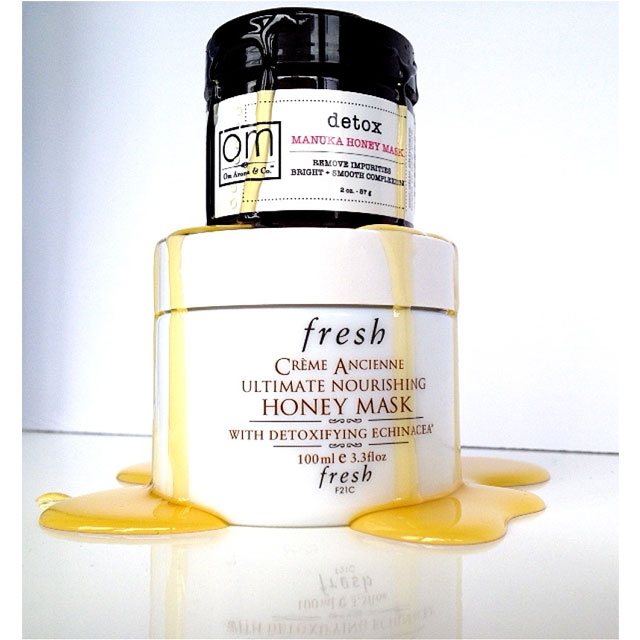 We don't think we give honey enough credit, the sweet nectar food is truly a savior when it comes to skincare. Not only does it hydrate to the extreme, it's a great acne fighter and its anti-microbial properties and natural antioxidants protect the skin from the elements. There aren't many sweet and tasty foods that can do that. Next time you're out and about, thank those little buzzing babies. 
It was only a matter of time before skincare brands took advantage of the amazing skincare benefits of honey and used the food in facial products. This isn't exactly breaking news; there are a ton of honey-derived products out there. But out of all things honey, these two masks reign supreme. Here's why. 
Om Aroma & Co Manuka Honey Masque, $56
Manuka honey, a monofloral honey from New Zealand and Australia, is said to have a ton of antibacterial and anti-inflammatory properties. This mask combines Manuka honey with organic papaya and apricot to encourage cell regeneration and remove dead skin cells. It leaves your complexion smooth and glowing. 
Fresh Creme Ancienne Ultimate Nourishing Honey Mask, $130
The unique blend of pure honey, echinacea and shea butter make for one super-nourishing, melt-into-your-skin face mask. The natural sugars in honey help make an invisible mask over the face to preserve moisture and protect your complexion from environmental stressors. It's rich in antioxidants and provides tender loving skin care for 6 hours, making it completely worth the not-so-cheap, $130 pricetage. We'll take two. 
Are you into the honey craze or do you think it's just another superfood fad?
Get the latest beauty news and inspiration!
Sign up for our newsletter to receive the latest from Beauty Blitz delivered straight to your inbox.