Here's the Ideal Hot Tool Temperature for Your Hair Type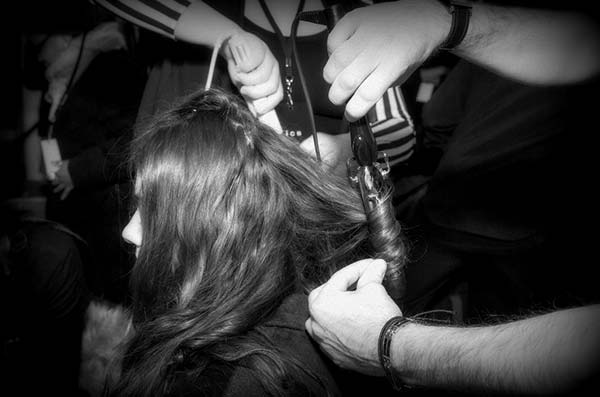 By now we can all agree that all hair is not created equal. Just like your hair type determines which 
shampoo and conditioner is right for you
, your unique texture should dictate the temperature of your hot tools, too. That's right, just because your curling iron goes up to 450 degrees does not mean you have to max it out – it won't make hair curl faster or stay curled longer. (You've seen the
YouTube video
of the girl who sizzled her hair off during a tutorial — don't let it happen to you.) We asked
T3
Lead Stylist David Lopez, who's responsible for
Chrissy Teigen's gorgeous mane
, to give us the 411 on hot tool temperatures based on hair type. Here's what he had to say.
Fine/Double-Processed
"Fine hair or hair that has undergone a double-process bleach (our super blonde friends) should always tone down the heat of their styling appliances. 350 degrees is a safe bet, but try not going above the 370 mark to ensure minimal heat damage."
Natural/Textured 
"Crank up the heat if you have thick, curly, dense hair. Your initial passes can be around the 420-450 degree mark but for touch ups turn down the dial to the 370-400 mark."
Color-Treated
"If you're doing minimally invasive or damaging color to your hair, it's important to turn down the temperature to help retain vibrancy. This is especially important for redheads and blondes that feel their toners fade quickly. Turning your temperature down 10 degrees will help save your hair and your color."
Normal
"Any 'normal' head of hair can get away with the temperature of their flat iron staying around the 400 degree mark. Finer hair types go down 10 degrees, and more dense or coarse hair types dial up to around 410."
But the temperature isn't the only thing you should focus on when it comes to hair tools. Lopez says, "It's important that all of your heat tools incorporate ceramic and or tourmaline technology. A lot of brands use these buzzwords on their packaging to help push their product but unfortunately are getting away with cheap heating elements that are scorching your hair. Invest in a quality tool, whether you use a curling iron, flat iron, or blowdryer like the
T3 Micro Featherweight Lux2i
. Your tools will last longer and your hair will thank you!" 
Keywords
Get the latest beauty news and inspiration!
Sign up for our newsletter to receive the latest from Beauty Blitz delivered straight to your inbox.