How to Avoid Looking Like a Hot Mess on Live TV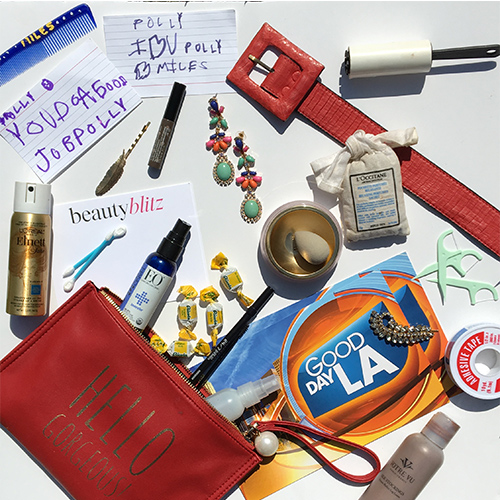 I began my on-air career in 2002, while I was a beauty editor at InStyle magazine. I'd go on the Today Show and entertainment news shows to promote each month's celebrity features. Since then, I've had hundreds of shoots in every type of setting and studio. It's not easy. It can be super tricky at times. But I love the exhilarating crescendo of creative energy. It's worth every ounce of effort when the producer says, "That's a wrap. You nailed it!" 
Some challenging moments stand out: I once sat on Oprah's couch looking like a deer in headlights...and she legit rolled her eyes at me like a GIF. There was also the time I suppressed a burp on Entertainment Tonight. And the time I spent 12 hours taping a commercial in heels - while pregnant with twins! Oh, the hot lights...and hot flashes...the swollen feet.
I logged dozens of hours selling perfume on HSN...while producers gave me cues through a covert F.B.I. earpiece. I had to listen while talking and manage to look sane. ("Polly, look at camera 3. Polly, now camera 2! OK, cue fragrance pyramid.") And how can I forget starring in a car commercial? (FYI, I don't have a driver's license.) Cameras were mounted around the inside of the car, so anything Mark and I did or said was taped while we drove around NYC. It felt like an episode of Real Housewives of Beauty Blitz.
Just like an actress, it's my responsibility to show up camera-ready, prepared to deliver the Polly Blitzer I'm expected to be that day. Luckily, I've navigated the obstacles successfully. I truly love my job and am grateful for it every day. After lots of practice, I've found ways to keep my game tight. Sweat stains! Dripping bronzer! Bra straps! Cough attacks! These are just the tip of the iceberg. 
Sweat Happens
Studio lights are hot. I'm talking about an inferno. And I'm a profuse perspirer. Some shoots feel like Bikram with a full face of makeup. My grandma once told me that I shouldn't trouble myself with deodorant, because "the women in our family don't perspire, Sugarplum." With all due respect, Mimi Audrey, you were incorrect. 
I learned an old Hollywood trick from the makeup artist on set at FOX Studios in LA. She's been doing it for decades. Press two
cotton rounds
soaked in
Sea Breeze
astringent behind your ears. The evaporating alcohol, along with the frosty menthol/camphor
trick your body into feeling cool
. I tend to avoid anything wool, cashmere or velvet, because they'll hold in heat. One trick I invented by accident: I blow on ice cubes in my iced coffee.
It bounces a gust of cold air back at your face, like instant air conditioning in a cup.
I also keep 
these cooling gel patches
in my bag. (I discovered them, because they can help bring down a kid's fever.) If I'm shooting outside on a hot day, I put one on my back and it keeps me "chilled" for up to 8 hours. 
Game Face
If you don't emphasize your eyes, your facial expressions will get lost on camera. When my makeup is done, I always rim my waterlines with 
this longwear black eye pencil
and go over my brows with this 
volumizing tinted brow gel
. It has fibers that bulk up individual lash hairs while adding pigment.
You know that feeling when you get your eye makeup 
just
 how you like it...and then glitter or shimmer falls on your cheek? I use a strip of conventional
 Scotch tape to pick up flecks of glitter 
without disturbing the rest of my face. If your eye liner runs or your lashes blink black dots onto your lid, use the 
pointy edge of these
 to remove precisely. Wiping it will mess up the rest of your makeup.
When it comes to skin, you should be matchy-matchy. Many people forget to think about their neck area when applying foundation or bronzer. They wind up looking color-blocked. There's a visible line of demarcation along the jawline, separating shades on their face and neck.
You can't ignore the skin on the rest of your body. Zoomed shots of your hand picking up a product can reveal dull, crepey skin. I always rub
shimmery body bronzer
over my décolleté, arms, legs, and the top of my hands and feet.
It adds a flattering sheen to your body
. You tend to look washed out on TV because of the bright set, so everything needs to be exaggerated: lashes, blush, contouring. (Also, knees and elbows tend to look dark on camera. I used to apply foundation, but that looks chalky on air. So I mix a bit of
fluid foundation drops
with
bronzing fluid
 in my hands rub it over the entire knee area with a 
makeup blending sponge
.
Don't trust the mirror to tell you the full story!
 If the camera catches you from the side, and you have food stuck between molars, it will show up when you smile. You can't see that angle in the mirror. Something as simple as
oatmeal can make two teeth look fused together by white glob. Store some
floss picks
in every handbag, makeup bag and clutch. Trust me.
Sound Check
I'll never forget the time I wore a sleeveless A-line Rebecca Taylor dress, and the sound guy didn't have a place to clip my microphone battery pack. He had to attach it to my inner thigh using a holster. It looked like something a police officer would wear to conceal a weapon. Now I store a couple of waist-cinching belts in my garment bag to prevent that sitch. (At least I wasn't the TV expert who forgot to unclip her battery pack before going to the bathroom. Splash!) 
I can't go on air with a raspy voice or do an awkward throat-clearing cough right into my lapel mic. So I always pop a
Ricola Original Natural Herb Cough Drop
into my mouth about 10 minutes before the cameras start rolling, while I'm in hair and makeup reviewing my talking points. It soothes the itchy feeling that I get in my throat during allergy season. Bonus: I don't have to worry about ambushing the makeup artist with coffee breath! The herbal blend tastes subtle and refreshing. 
Clothes Encounters
We've all seen celebrities tug at a dress hem on late-night talk shows. It inches up while they talk. I always ask my producer about the set in advance. It impacts my wardrobe choice. If I'll be perched on a stool, I avoid full skirts. The fabric falls around the seat in a horrifically unflattering way. I also cross my legs at the ankle (think Anna Wintour at a fashion show) to avoid flashing too much leg. If I'm standing for a full-body shot, I wear pointy-toe shoes (I love this $35 pair!) to create the illusion of height. I also avoid clingy fabric and button-down shirts. If you're busty like me, button closures in the chest area will gape and reveal your bra. It's never OK to wear ill-fitting clothes. If I do want to wear a button-down, this this stretchy bodysuit from J.Crew is the only one I approve of. The fabric is flexible and the shirt stays neatly tucked no matter what.  
Ever seen two news anchors wearing the same bright color? It's a visual mess! I always bring wardrobe options, so I can select an outfit that contrasts with the host. For jewelry, I avoid bangles, which jingle together and interfere with the audio. Statement earrings are a great way to add a flash of bright color near your face. And they can pick up colors from the set. 
This might sound strange, but I bring a few pairs of shoes with varying heights. It makes for a better shot when the people speaking are roughly the same height. (I once wore
these platform heels
 and was paired with a 5'1" host wearing flats. I did the segment barefoot! Nobody could see behind the table, so it was all good.) But, those platforms were great when I had a tall male host.
Even at your most svelte and fit, the TV camera has a way of finding ways to unflatter. I choose fabrics that won't cling. Of course, you always need
slimming shapewear
 to smooth things out and create a streamlined silhouette. 
Wardrobe tape doesn't work if you have to move around a lot. I use a basic earring stud to peg fabric in place. (You can't beat this set of 25 pairs for $13!) I also reply on medical adhesive tape to secure things like bra straps. This type of tape won't damage fabric, but stays securely in place. And let's not forget about a lint roller to pick up makeup particles. I've seen so many people get accidentally sprinkled with face powder during touch-ups. If you're wearing a dark color and try to wipe it off, it will create a pale streak. 
Head Case
You never know when your hair will have an uncooperative day. A last-minute tendril sweep might be in order, so I keep a few delicate, blingy barrettes in my makeup bag. Also, there's a fine line between beachy waves and out-of-control frizz. Enter
the best hairspray of all time
. I mist it on my fingertips and then gently stroke hair into place. I usually flip my hair up and down a few times while misting
this texturizing spray
. It adds lasting volume all over. I always ask the hairstylist to create a little bit of height at the crown of my head. 
It makes your face look slim by elongating its appearance.
Panic Button
To know me is to know my obsession with lavender. One whiff transports me to a calm place. I spray my hands with
lavender hand sanitizer
, rubs my palms together and deeply inhale. I also keep a
French lavender sachet
 in every handbag and piece of luggage. All you have to do is
give it a quick squeeze, and it releases the most calming aromatic scent
. (I've converted
so many people
to this...just by simply squishing my sachet under their nose when they're stressed out.)
I also keep something in my purse to anchor and ground me. Sammy and Miles wake me up with heart drawings and sweet notes. Before I leave for a shoot, they pick a flower from our garden and hand me a note. I just adore these, and looking at them puts me in a good mood.
Do you get last-minute jitters before making a presentation? I have so many more anecdotes and tips to share with you. There are far too many to list here, and I can't address every type of situation. Ask me questions in the comments below or email me directly at polly@beautyblitz.com. 
xx,
Polly
This post is sponsored by Ricola. All writing and opinions are my own.
Get the latest beauty news and inspiration!
Sign up for our newsletter to receive the latest from Beauty Blitz delivered straight to your inbox.