#SummerProblems: How to Control Frizzy Hair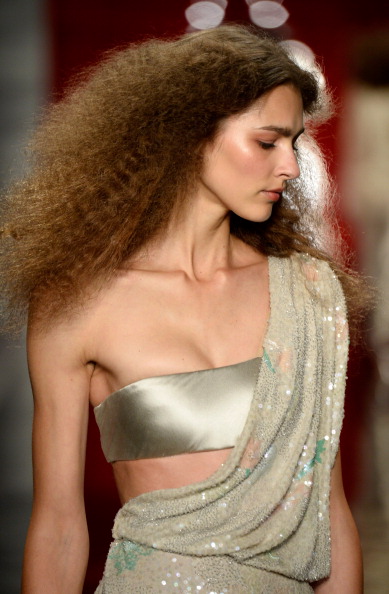 Photo: Reem Acra Spring 2014 / Getty Images
While the weather might be gorgeous, some summertime staples are anything but pretty: think tan lines, sweat-streaked mascara and chlorine-green hair. This season, we're solving your #SummerProblems so you can focus on more important matters...mojitos by the pool, anyone?
It's a jungle out there. No, really — summer humidity levels are reaching rainforest-like proportions, and our hair is growing so frizzy we're basically the "before" picture on a bottle of shine serum. But it doesn't have to be this way. Beauty companies are launching some promising new frizz fighters this season; combine them with stylists' tried-and-true smoothing techniques and frizzy texture doesn't stand a chance. Here are a few of your best weapons in the war on frizz. 
What Causes Frizzy Hair 
The first rule of combat is "know your enemy." So what actually causes hair to go frizzy, and why are some of us more prone to fuzzy strands than others? 
Let's start at the beginning. Hair is made of keratin proteins, and those strand-like structures like to attach to water molecules. When you style your wet hair, you're rearranging the keratin proteins to be smooth. But when water molecules from humid air bond to dry hair, they proteins go back to their natural state, which for many of us is frizzy. That's why frizz is largely genetic (thanks, Mom and Dad) — your keratin proteins were born this way.
But damage can also make hair prone to frizz, says hairstylist Julien Farel, owner of
Julien Farel salons
in New York, Miami and Cabo San Lucas. "Frequent use of heat styling tools, like hair dryers and curling irons, can dry out the hair, allowing frizz to form," he says. Colored hair is also more vulnerable. "People who over-process their hair too much with services like highlights or color are more prone to added frizz." (He recommends his
Julien Farel Haircare Zero Frizz Restore
, $33.)
What You Can Do About It
If only it were possible to spend the summer in an air conditioned bubble with a zero humidity microclimate. Since that's not an option, you'll want to start with the right products. Kérastase has just launched a new Discipline line for "unruly" hair — yes, that would be hair that needs some bootcamp-style tough love to whip it into smooth and shiny shape. The
Bain Fluidealiste Sulfate-Free shampoo
($39) and
Fondant Fluidealiste conditioner
($42) contain new Morpho-Keratine technology to strengthen, tame and replenish hair that's unmanageable thanks to either overprocessing or genetics.
For hair in need of TLC,
Neutrogena's Triple Repair line
is an excellent drugstore option. Not only does it temporarily mend split ends — which can make hair look frizzy at the tips — it strengthens brittle hair and heads off new breakage, all while leaving strands super soft. The collection features a shampoo, conditioner and leave-in treatment ($6.99 each).
The right styling regimen is also key. Before blow drying, you'll want to prep your wet hair with a moisturizing product — an oil, curl cream, or serum — which will coat the strands and prevent water molecules from getting inside and creating frizz. When blowing out hair, use a brush to pull sections tight (the more tension you can get, the smoother the result) and make sure you're using an ionic hair dryer. Negatively charged ions break down water molecules into smaller particles, which means your hair dries faster (and less drying time = less damage) and the cuticle lays smoother.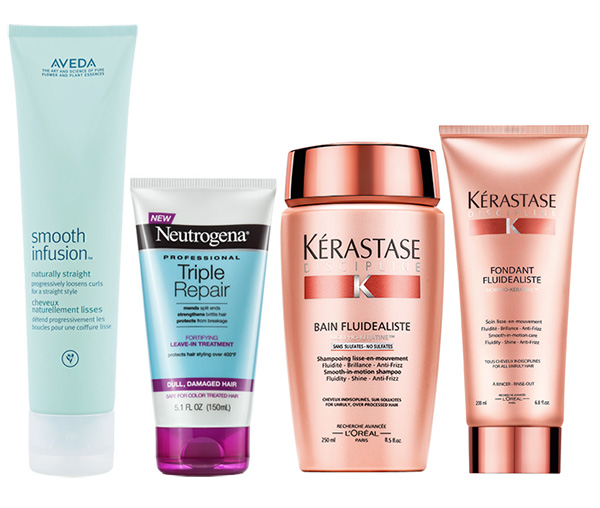 Once you're finished, you might have the urge to shellac your style with hairspray, but Farel recommends that you don't. "Go light on the hairspray or skip it all together. The alcohol content in hairspray tends to inflate hair cuticles, which results in puffiness and unwanted frizz."  
Is a halo of flyaway frizzies near the roots your main problem? "Use a light, frizz-taming spray (especially if your hair is fine and on the oily side) at the top of your head to control the flyaways," recommends Ric Pipino, celebrity stylist and VP of Global Creative for Alterna Haircare. "For added frizz-control, it's best to use a product that also offers a bit of hold. The key is when applying product, avoid rubbing the scalp and focus on running it in a downward motion from the top of the head to the ends." He recommends mixing
Alterna Bamboo Smooth Kendi Dry Oil Mist
($25) with a bit of
Alterna Caviar Working Hairspray
($20) in your hands and running through dry hair to smooth it out.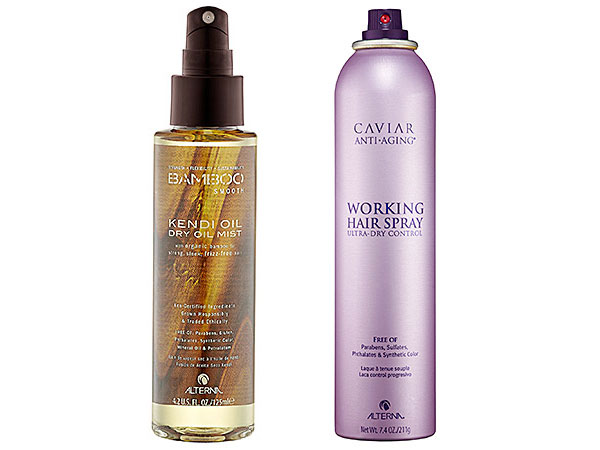 A Longer-Lasting Fix
Sick of the daily struggle against frizz? Aveda has just launched a new treatment that leaves hair straight and smooth for multiple days.
Smooth Infusion Naturally Straight
($26) is a styling cream that progressively loosens curls and smooths out frizz every time your blow dry hair. Its plant-derived fibers create a locking layer to help hair hold its straight shape, while organic cassava root helps form a barrier against humidity. And after five consecutive uses, hair will stay straight for up to three washes.
"Another option is to get an anti-humidity in-salon treatment," Farel says. Forget the harsh, formaldehyde-laced straighteners of the past; the new wave of treatments is much gentler. His newest salon,
Julien Farel Restore Salon & Spa
in Manhattan, offers a De-Frizz Quick Treatment ($220) that leaves hair smoother and easier to style, but not pin-straight. "It's a formaldehyde-free and completely odorless treatment I developed that fights stubborn frizz without eliminating the natural body and volume of the hair."
Strategic Styling
On the muggiest of days when hiding inside an air-conditioned building isn't an option, your best bet might be to choose a hairstyle that keeps frizz under wraps. 
"I'm loving braids this season – there are so many different varieties," Pipino says. "You can play with a chignon braid for an updo look that will take you seamlessly from day to night, or modernize the traditional braid by creating a fishtail, or a messy and modern version with loose strands." 
If your hair is already frizzy, don't feel like you need to wash it again. Instead, coat strands with gel, "then just slick back your hair and style it into a bun of your choice. This offers a sleek look, while also helping to smooth away those frizzy flyaways," Farel says. And if all else fails, you can always
take cover under a headscarf
.
More #SummerProblems:
Keywords
Get the latest beauty news and inspiration!
Sign up for our newsletter to receive the latest from Beauty Blitz delivered straight to your inbox.