How To Deal With Pesky Gray Hair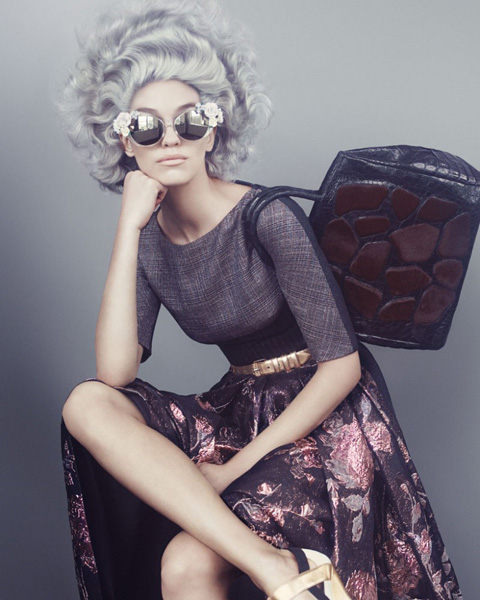 With celebrities like Zosia Mamet and Lady Gaga dying their hair silver, gray hair is becoming more and more of an 'it' hair color rather than a nightmare. But while some women are going to their colorist asking for gray or silver hair, others are looking to hide it. Going gray is inevitable, but if you're finding more and more color-changing strands popping up, simply covering them up with hair dye may not be enough. 
According to Washington D.C. dermatologist Rebecca Kazin, women as young as 30 are noticing pesky gray hair sprouting up in their blowouts.
So why and how does it happen? "Gray hair has lost all of its melanin so the color appears washed out," says Dr. Kazin. "Genetics and stress can be contributing factors, along with aging. Hydrogen peroxide, which is produced naturally in the body, interferes with melanin. The body also produces catalase, an enzyme that breaks down hydrogen peroxide into water and oxygen. When catalase production slows down, hydrogen peroxide can build up, and our hair turns gray." 
Since grays are stiffer and drier, they can be hard to hide with a simple visit to your colorist. Dr. Kazin suggests using an intense conditioner a few times a week to help coarse and wiry strands "lay flat and blend better with the rest of your hair." She also recommends a good dry shampoo. "Oil flattens hair and enhances root color irregularities. Using a dry shampoo between washes helps absorb excess scalp grease and give tresses more disguising texture." 
If your grays are becoming more and more prominent, especially against brunette hair, it may be time for a color change. "Gray hair isn't as glaring on lighter hair like blonde and red," says Dr. Kazin. "Ask your colorist to camouflage grays with some golden highlights two to three shades lighter than your natural color." 
For a quicker fix, try switching up your part in a way where your grays are less noticeable. A side part may hide them much better than a middle part, or vice versa. Or simply get a blowout. "A salon blowout creates body at the root, helping to hide unsightly strays. Simply getting a regular blowout can help extend color correcting by weeks." 
Next time you spot a gray, don't stress (it will cause more!). It happens to the best of us, so just follow these simple tips and no one will ever know your secret. We won't tell. 
Keywords
Get the latest beauty news and inspiration!
Sign up for our newsletter to receive the latest from Beauty Blitz delivered straight to your inbox.