How to Take a Flattering Nail Selfie
I totally Photoshopped this nail selfie. Photo: Instagram
I'm highly self-conscious about my hands, but a showoff when it comes to my manicures. This means I spend a lot of time trying to perfect my nail selfie game. How can I position my fingers to showcase my negative space moon manicure while hiding my bruised knuckles from kickboxing class? I'm slightly ashamed to admit I've spent a good 15 minutes in pursuit of the perfect #nailart Instagram photo.
But I'm getting better at taking a decent shot, and while I'm still no hand model, I can fake it enough to come up with a pic that I'm happy with — thanks to a few helpful tricks I've picked up along the way. 
Strike a Pose
There are certain poses that make hands look elegant and elongated — and others that have the opposite effect. Former beauty editor Eleanor Langston knows all about showing off a manicure on camera: her new NYC nail art studio,
Paintbox
, features a photo station where patrons can snap a pic of their freshly painted nails to share on social media. 
"After looking through thousands of photos of hands and really experimenting with our Photo Box, we've found that the most flattering poses for hands are ones that aren't super flat," Langston says. "If you're photographing your hands, you don't want to smush them down on a table. Try to keep them soft and relaxed if you're placing them on a surface."
Try the stacked pose, where you place one hand on top of the other. "Make sure to space the nails, so that
all ten nails aren't at the top. We've found the best way is to place the hand that's on top so that the fingers are right below the knuckles of the bottom hands," Langston says. Also, "Spread your fingers out slightly to make them look slimmer."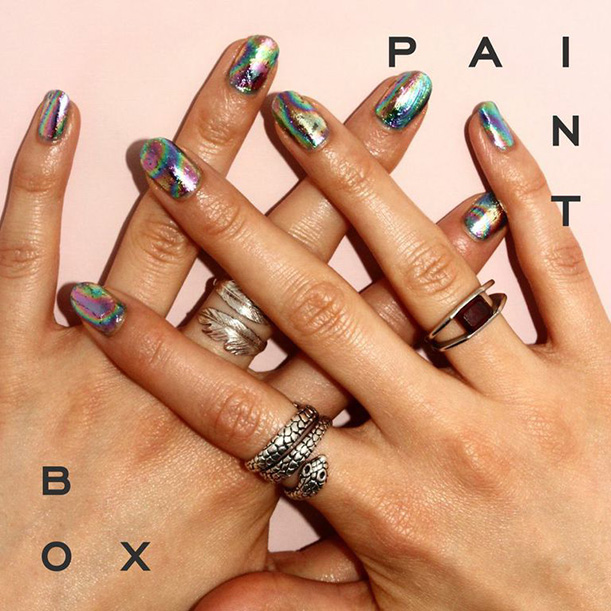 A shot from Paintbox's Photo Box.
Get the Red Out
My hands always look super pink in pictures, so I've learned this trick. Hold your hands above your head for 30 seconds before you photograph them. The blood will drain out of them, making your fingers look more even-toned and less splotchy. 
Check Your Cuticles
Nothing ruins a pretty nail photo faster than gnarly cuticles. If yours are looking less than presentable, "A little cuticle oil can camouflage any problems like dry skin and hangnails," Langston says.
Prop It Up
When I can't seem to capture a flattering pose, I'll grab a prop — a nail polish bottle, a colorful clutch, even a shirt sleeve can work. Not only does a prop add character to the photo, it takes the focus off my weird-looking fingers.
Langston suggests "bright red nails crinkling a Coke can, pastel nails around a Perrier bottle, metallic nails holding a stapler, foil nails with a hammer or mirrored sunglasses, a milky pastel nail holding an ice cream cone, etc. These props breathe new life into run-of-the-mill nail shots and will set you apart on Instagram, Tumblr, and Pinterest."
Fake It with Filters
If you Instagram your nail selfie, avoid blue-tinted or high-contrast filters like Hudson and X-Pro; warmer filters like Amaro and Valencia are better for enhancing skin tones. 
Also, I totally "Photoshop" my nail selfies and I don't care who knows it.
Facetune
, the best app for erasing wrinkles and blemishes on faces also happens to work wonders on hands. It's well worth the $2.99 download for the ability to swipe away imperfections. Just don't go overboard; a light touch reads natural, but too many tweaks will look fake.
You Do You
If all else fails, "Have fun with it," Langston says. "Show personality with your hands by
flashing a peace sign
, making a heart, making a claw — whatever shows your individuality!"
Get the latest beauty news and inspiration!
Sign up for our newsletter to receive the latest from Beauty Blitz delivered straight to your inbox.