A Hair Stylist's Trick for Washing Away Product Buildup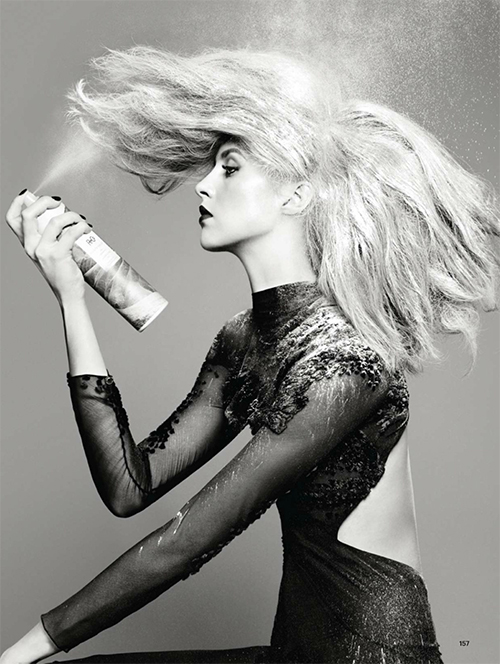 Photo: Allure magazine, November 2014
Being from New Jersey, I'm a big fan of hairspray...in moderation. There's nothing worse than a style that's been shellacked so heavily that it stays in place even after you take out the bobby pins. But for big events and photo shoots, hairspray overload is a necessary evil — how else would your
side bun
stay looking perfectly imperfect for hours? 
You can be sure you've OD'ed on hairspray if your shampoo can't even wash it all out. But now I know there's an alternative to lathering, rinsing and repeating ad infinitum, thanks to Herbal Essences celebrity stylist Charles Baker Strahan.
At an event for editors this week, Strahan (who tends to the strands of Amy Poehler and Leighton Meester, among other celebs) suggested a strategy that never would have occurred to me: massage your shampoo into dry hair, not wet. The reason? When water hits hair that's been coated with hairspray, the remaining product congeals into a sticky, impossible state. But adding shampoo before water prevents that from happening and lets the formula's surfactants break down the residue instead.
Next time I find myself with more spray in my hair than the combined members of Bon Jovi, I'll be sure to try this trick (perhaps with the new, Charles Baker Strahan-approved
Herbal Essences Wild Naturals Illuminating Shampoo
, which leaves strands shiny and strengthened thanks to protein-rich cassia extract). I'll let you know how it goes.
Keywords
Get the latest beauty news and inspiration!
Sign up for our newsletter to receive the latest from Beauty Blitz delivered straight to your inbox.