Damage Control for Gel Manicure Addicts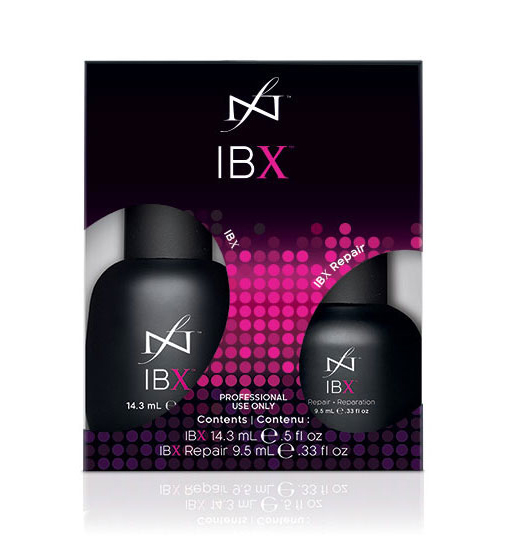 I always feel a little guilty when I get a gel manicure, especially when it's time to remove it. My poor, poor nails — I'm sorry for what I've put you through! The more times my tips are soaked in acetone and scraped with a file, the weaker and duller my nails become. (In fact, the
epic gel manicure I got in Tokyo
was so resilient it had to be sanded off with a power tool — yikes.) After a certain point, the only way they'll look decent again is with more gel…and the cycle continues.
But there's a new treatment in town that could change all that. The IBX System's makers bill it as "the first pre-manicure salon treatment that repairs and strengthens" nails, and it's finally available in the U.S. after debuting in Europe. If you're addicted to gel manis, can't stop biting your nails, or like Karen in Mean Girls, simply have nail beds that "suck," you'll want to check this out.
Unlike existing fixes that just sit on top of the nail, IBX is a two-step treatment that actually penetrates into the nail plate to repair and strengthen it. It contains avocado and jojoba oils to promote nail health, and uses monomer technology to fuse peeling or broken nails back together. 
I had a chance to try out IBX at NYC nail salon
Paintbox
recently, and the results were impressive. It took about 10 minutes for my nail tech to apply the repair treatment (which reduces white spots and "acts like double-sided sticky tape") and then the second step protective shield, both of which are cured with an LED light. You can see how it's applied in the video below. When she was finished, my previously power tool-damaged nails felt sturdier and looked as if I'd never had gels on them in the first place. 
After the treatment is applied, you can either leave your nails bare (IBX feels like you're wearing nothing, and it doesn't need to be removed) or top it off with another gel manicure — but this time, guilt-free. And that's exactly what I did.
The IBX System is available at 800+ salons across the U.S. For more information, visit ibxnails.com.
Keywords
Get the latest beauty news and inspiration!
Sign up for our newsletter to receive the latest from Beauty Blitz delivered straight to your inbox.