Josie Maran's Latest Skincare Lauches
Josie Maran's eponymous beauty line has been centered around the benefits of argan oil and the benefits of being natural. While I can't get enough of her eyeshadows and the fabulous Matchmaker Serum Foundation, I'm so excited Josie is expanding her line and creating great skincare items.
We've seen Josie formulate lipgloss, eyeshadow and blush with skin conditioning argan oil, and now it only makes sense to create actual skincare products to complement her array of cosmetics.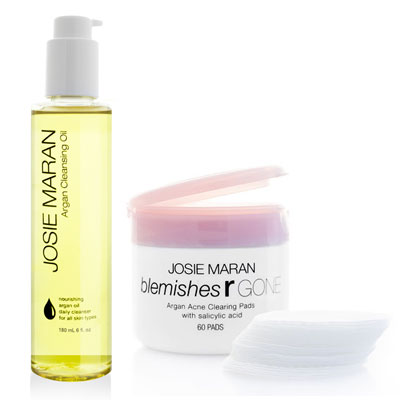 Josie Maran Argan Cleansing Oil, $32
I'm already a huge believer in oil cleansing, but I love how Josie is introducing this to her huge fan base thanks to Sephora and QVC. Josie's cleansing oil has a light refreshing scent and is made from argan oil blended with other nutrient-rich oils like almond, safflower seed and grape seed oils. It works as a makeup remover, skin cleanser and anti-aging treatment all in one. And if you'd like to compare this natural option with its competitors, you might be surprised to find mineral oil as the the main ingredient.
Josie Maran Blemishes R Gone Argan Acne Clearing Pads, $28
My acne-prone skin relies on daily exfoliation for a zit-free existence. These treatment pads are formulated with natural salicylic acid from willow bark to fight blemishes, but they're also packed with argan oil (of course!) and aloe vera to soothe and nourish your complexion, so you're glowing - not dried out!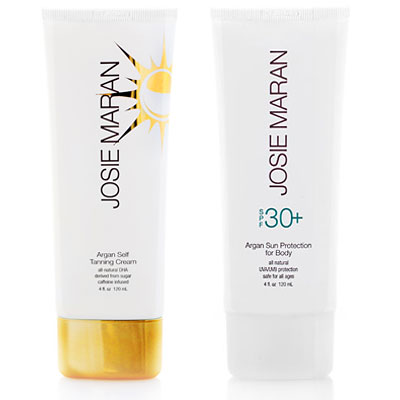 Josie Maran Argan Self Tanning Cream, $32
For the safest tan you can get - you know, the one without any actual sun exposure - Josie is introducing her self tanning cream that also tightens and tones. Free of any synthetic dyes, it's formulated with DHA derived from beets and sugar can to produce a natural looking glow. It's also packed with caffeine to held reduce cellulite and tighten the skin's surface, so you can bare it with confidence.
Josie Maran Argan Sun Protection for Body SPF 30+, $24
Josie's delicious smelling daily moisturizer with SPF was quite a hit, so she's following up with a version for the neck down. So while titanium dioxide and zinc oxide protect you from both UVB and UVA rays, the anti-aging argan oil keeps your skin elastic and reduces inflammation. Plus, that same apricot scent smells far more pleasant that any other sunscreen I've tried.
Josie pretty much figured out how to keep women looking gorgeous all summer long, while feeding our skin the nutrients of argan oil. Now that's some serious model behavior!
Keywords
Get the latest beauty news and inspiration!
Sign up for our newsletter to receive the latest from Beauty Blitz delivered straight to your inbox.