On Wednesdays We Drink Charcoal: Juice Generation's Drinkable Skincare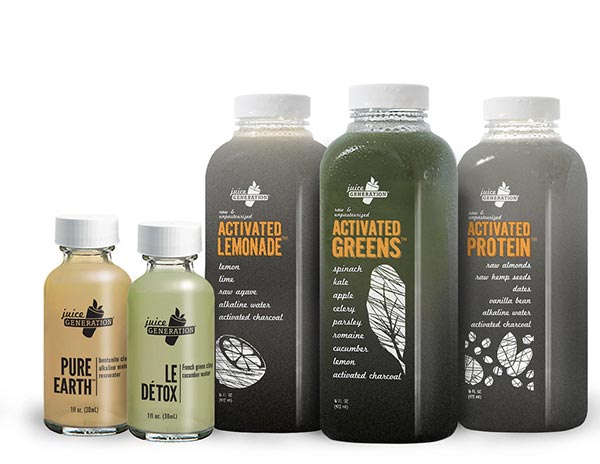 Topical charcoal skincare
has been all the rage this year. And for good reason. The ingredient that first became a thing in Asia (obviously) is known to absorb toxins, impurities and excess oils from skin like a magnet. With that said, just imagine what it could do if you ingested it. One of our favorite juice joints just launched the ultimate skincare line – and it's not going to go on your skin. 
We already know that the stuff we eat plays a huge role in how we look. Juice Generation is taking their cold-pressed juices to another level with their line of Beauty Bombs. The new range includes three charcoal-activated juices and two clay-infused shots made to beautify you from the inside-out. 
Let's start with the shots. The first, Pure Earth, is a blend of bentonite clay, alkaline water and rosewater. Think of it as a rosewater facial mist that you can actually drink. The ingredients work to ease digestive issues, support detoxification and recharge the body. The second, dubbed Le Détox, is an antibacterial, anti-fungal and anti-viral elixir made from French green clay and cucumber water. It helps to get rid of toxins and heavy metals while hydrating and stimulating the liver. Both taste very true to their ingredients, so if you like rosewater and cucumber, it shouldn't be too hard gulping these down. 
So why clay? It's simple, the benefits of it are out of this world. When taken internally, clay plays the role of a sponge that absorbs toxins and helps them exit the body like a bouncer that kicks out all the drunk fools from bars. The French green clay in Le Détox is also rich in magnesium, calcium and potassium. Sold yet? 
Moving on to the charcoal-activated juices. First you've got the Activated Lemonade (lemon, lime, raw agave, alkaline water and activated charcoal). The star ingredients are the lemon and charcoal, which are both essential in boosting detoxification. With the lemon's hydrating, cleansing and PH balancing abilities, and charcoal's toxin removal skills, this bevy is your one-stop-shop for healthy, glowing skin and fresh breath. 
Next up: Activated Greens, Juice Generation's amped up version of their popular Supa Dupa Greens juice. Inside you've got spinach, kale, apple, celery, parsley, romaine, cucumber, lemon and, of course, activated charcoal.  Together they boost detox and anti-aging, ease bloating and gas, prevent hangovers (score!), and support kidney, heart and brain functions. 
Finally, the teeth whitening and breath freshening Activated Protein drink, made with raw almonds, raw hemp seeds, dates, vanilla bean, alkaline water and activated charcoal. We like to call in dessert for your skin. The sweet, creamy juice also boasts detox properties, and even balances blood sugar levels and aids in weight management. 
Just to clarify, charcoal doesn't taste like anything, so don't expect a weird taste. Each juice is actually quite delicious. The lemonade is perfectly sweet, not bitter. The green juice tastes like a green juice and the Activated Protein is sweet and creamy. Bottoms up! 
Keywords
Get the latest beauty news and inspiration!
Sign up for our newsletter to receive the latest from Beauty Blitz delivered straight to your inbox.