Kiehl's Wants to Shrink Your Pores Once and For All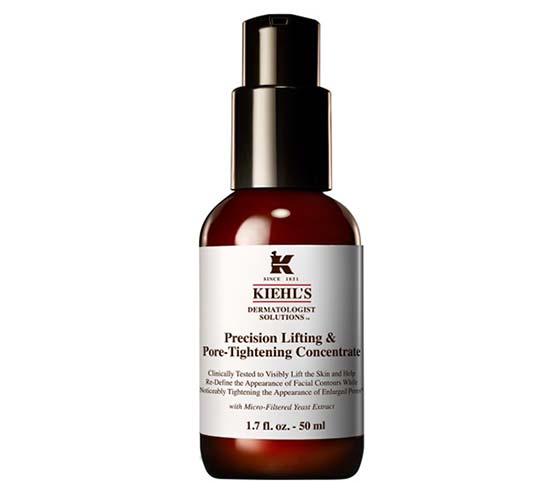 My colleague recently dubbed me the official pore correspondent for Beauty Blitz because there is not a pore-minimizing product that I won't try. Hey, everyone has something they hate about their complexion, and you can obviously guess what mine is. While I've tried many products that blur and hide my pores, I haven't been lucky enough to score anything that will help shrink them for good, until now. The second I found out about Kiehl's new Dermatologist Solutions Precision Lifting & Pore-Tightening Concentrate I couldn't help but see a light at the end of my pore-hating tunnel. 
But before you start thinking this treatment is not for you and your baby pores, think again. Turns out, loss of elasticity due to aging (a.k.a. saggy skin) is also a contributor to large pores, so even if you're not worrying about them now, they might start becoming more prominent as you age (we can't win). The concentrate covers all of those issues at once thanks to the powers of a Micro-Filtered Yeast Extract and geranium essential oil. Together, the ingredients help skin "bounce back" while visibly reducing pore size and appearance. 
"What makes Kiehl's Micro-Filtered Yeast Extract so effective is that it was derived from fresh, cultivated yeast which undergoes a multi-step, micro-filtration process," says Dr. Geoff Genesky, Head of Kiehl's Skincare Laboratory. "This process yields an ultra-purified form of the ingredient, composed mostly of polysaccharides and proteins that contribute to visibly lifting skin and tightening pores."
I've been using this for a week now and have already seen dramatic improvements. Obviously my pores are still there, but they're no longer overpowering my cheeks and nose. The serum is really refreshing and sinks into skin almost immediately without leaving any residue behind. That means it wears very well under makeup, which is great because it should be applied twice a day. I've finally found a skincare product I can't live without, so if your pores are putting a damper on your look, you've got to give this Concentrate a try. Get yours at Kiehl's stores and
online
for $64. 
Get the latest beauty news and inspiration!
Sign up for our newsletter to receive the latest from Beauty Blitz delivered straight to your inbox.