Kristen Bell on Water Conservancy, Not Washing Her Hair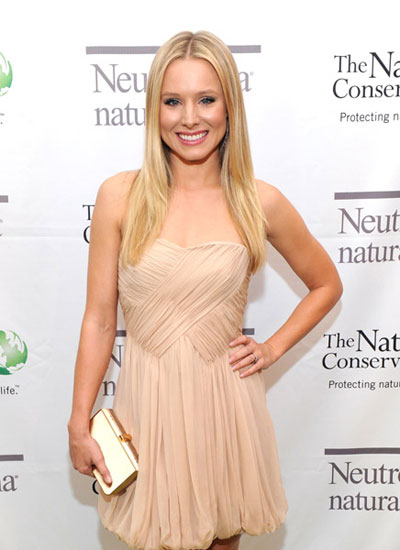 Kristen Bell has starred in television and big screen hits such as Heroes, Forgetting Sarah Marshall and Couples Retreat, but her latest project is all about the planet. Through a partnership between Neutrogena Naturals (she's the face of the brand) and The Nature Conservancy, Kristen is helping to increase awareness around water conservation in the US. I sat down with the actress to talk about her beauty regimen and her newfound cause.
What made you become so passionate about the water conservation initiative?
When I read the fact that something like 70 percent of the earth's surface is water, 3 percent is freshwater, but only 1 percent is available. That's outstanding for me to try to wrap my head around - that of the entire earth, we are allowed to use 1 percent of the water. I always feel better about myself when I'm trying to be responsible, whether it's socially, economically, et cetera. I think I was unwilling to accept that domestic water is an issue; it's easy to accept it as a global issue, but hard to understand [on a personal level] because you have a tap. Once I understood after visiting the Colorado River and seeing how depleted it was and finding out that it's phenomenally simple to make changes in your life that have a drastic effect collectively - that's just very inspiring. A lot of the problems in the world are daunting to solve and this one has a really easy solution and that's exciting.
What can people do to help conserve water?
The simplest is shutting off the tap when you don't need it. But before you do that, you need to acknowledge when you need it and when you don't. For the first week, I had to think about it, but after that [conserving water] became second nature. Educating yourself is also important.
Why do you like supporting Neutrogena Naturals?
Every dollar is a vote with Neutrogena Naturals, and I want to support companies that are responsible. I think they are making strides in educating people, which is extremely important. They also put their money where their mouth is. The brand itself embodies ideals I stand behind. Not only do the products contain natural ingredients that really work, but we actually just teamed up with The Nature Conservancy to develop a video series with water conservationist Alexandra Cousteau to help raise awareness for water conservation in the U.S. We filmed these videos along the Colorado River, and I am honored to be part of such an important message. Clean water is crucial to our everyday lives – from our drinking water to the water we use in our beauty routines. It's important to take time to appreciate it and conserve it for future generations.

What beauty product is always in your handbag and why?  
One thing you will always find in my bag is lip balm.  I love the Neutrogena Naturals Lip Balm – it's super moisturizing and has a fresh, almost minty scent to it.  

What can you say about your beauty regimen now that you're thinking about water conservation?
My beauty regimen is really 'less is more.' If I can get away with not washing my hair, I won't.
Are you a fan of dry shampoo?
There has never been a bigger fan! It's the greatest; I can't survive without it. I don't want to wash my hair every day because it's not good for hair and not good for water. It's a genius invention - I use it everyday. That and a little bit of perfume and we can all stop showering!
What's your signature scent and what do you love about it?
I wear an amber oil that I get from Whole Foods in Texas. Every time I go to Austin, I buy like 17 bottles of it. It's simple and rich at the same time. It's not too strong, but the scent actually kicks in when I sweat, which helps.

Do you have any beauty secrets that you learned from your mom?  
One thing my mother always told me to wear is sunscreen. I use it every day, even now.  She also used to remind me when I was younger to wash my face regularly no matter what. In fact, I remember we always had the amber bar in the bathroom, so it is great that today I am actually an ambassador for Neutrogena. I still use their products – one of my faves is the Neutrogena Naturals Purifying Facial Cleanser. It is so gentle on my skin and I love the willow bark extracts and the fact that it doesn't contain any sulfates or parabens.
How do you relax during your down time?  
I love being active and on-the-go, but down time is necessary for everyone. I love lighting some lavender or vanilla candles – the scent is so soothing - and putting on some relaxing music (right now I'm really into Landen Pigg). I also really like taking walks with my dogs. It helps me unwind after long day and let my brain recharge for a bit.
For more information about The Nature Conservancy's partnership with Neutrogena Naturals, visit www.nature.org.
Get the latest beauty news and inspiration!
Sign up for our newsletter to receive the latest from Beauty Blitz delivered straight to your inbox.