Lancôme Pledges to Support St. Jude - and You Can Help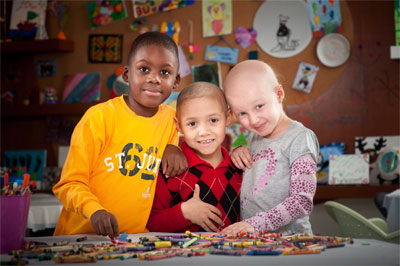 If you had mentioned St. Jude to me before a couple weeks ago, I might have thought of those commercials with Marlo Thomas or Jennifer Aniston, or the address labels with crayon drawings that sometimes come in the mail. I knew it was a hospital for sick kids; that was all.
But recently I had the chance to visit St. Jude Children's Research Hospital in Memphis, Tennessee with Lancôme, who's partnering with the hospital to make a sizable donation. And now I have a whole new perspective.
On October 21st, Lancôme will hold its second annual Genes Day event. The company will donate $7 to the hospital for every bottle of Génifique Youth Activating Concentrate sold, and has pledged to raise at least $300,000 - double last year's donation - to support St. Jude's lifesaving mission.
It costs $1.7 million a day to keep St. Jude up and running, treating an average of 5,900 children with cancer and other diseases each year. And donations account for three quarters of the hospital's funding.
So where does all that money go? For one, research. Since the hospital opened, advances made there have helped to increase the survival rate for childhood cancers from 20 percent in 1962 to 80 percent today. Now scientists are pioneering genetic research that allows them to target treatment better - with the goal of pushing the odds even higher. (Lancôme, which employs genetic research to develop skincare, saw a kinship here.)
 
Second, no family pays a penny out-of-pocket for treatment at St. Jude - the hospital foots the bill for travel costs to and from Memphis, provides amazing housing and meals and never turns away a patient who can't pay. It's the only children's cancer research hospital to do so.
But that's not all that makes St. Jude unique. From the moment our group walked into the lobby, I could tell this place was nothing like your typical hospital. Where I expected to see sick, suffering patients, I saw brave (and often smiling) kids being chauffered around in red wagons (St. Jude uses them instead of wheelchairs). Where I thought there'd be institutional white corridors, there were colorful murals and huge tropical fish tanks, all the better to distract nervous little patients. Every person we passed - from physicians to volunteers to parents and children - seemed to be in good spirits and full of hope.
That's not to say there weren't a few moments when I felt my eyes fill up with tears. Like when our tour guide, a 20-year leukemia survivor and former St. Jude patient, described how the smell of chemotherapy drugs still makes her feel sick. Or when the director at Target House (a communal living facility for patients and family members) described having to help a parent pack up a lost child's belongings. Or when I heard the story of a 12-year-old survivor who's pledged to "pay back" the cost of her treatment by raising $2 million for the hospital.
Yes, I said $2 million. Curing cancer isn't cheap. So help the cause, if you can, by purchasing a bottle of Génifique on October 21. Lancôme counters are giving away generous 7-day free samples of the product throughout the month of October, so you can even try before you buy. And Dillard's stores are extending the $7-per-bottle donation period for an extra three weeks, from now until October 23rd. Please also consider donating to St. Jude directly - visit stjude.org for more info.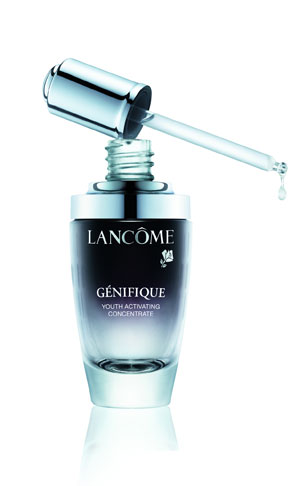 Get the latest beauty news and inspiration!
Sign up for our newsletter to receive the latest from Beauty Blitz delivered straight to your inbox.