OPI Liquid Sand and The Trick to Getting It Off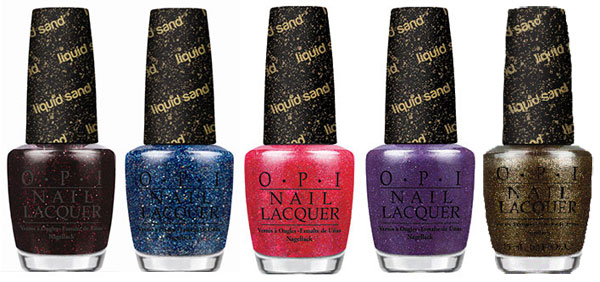 I might be a little late with this, but I'm kind of obsessed with OPI's Liquid Sand formula. The four original shades are featured in Mariah Carey's OPI collection and a new color will debut as part of the 'OZ the Great and Powerful' collection (far right, out March). Liquid Sand looks like standard glitter from the bottle, but when you apply it on your nail and let it dry, it actually has a matte, sandy texture to it - hence the name. Backstage during Fashion Week, we've heard plenty of rumors about textured nails being huge for fall. But, OPI is ahead of the game and you can get in on the trend now (love that!). We're sure we'll be seeing other brands with similar textures, but for now, Liquid Sand is just so hot.
As always, something so good has to have a flaw. Just like any other serious glitter polish, Liquid Sand sucks to take off. I look forward to the day when the beauty Gods give us speckled polish that doesn't require hours of soaking. But, for now, the old burrito fingers trick makes life semi-easier. Never heard of it? Let me fill you in. Have you ever gone to Chipotle or Qdoba and ordered one of those baby-sized burritos? Of course you have. Well, they wrap it in alluminum foil, right? The trick to taking off your glitter polish is just like wrapping a burrito in aluminum foil. Soak a cotton pad in 100-percent acetone (it's seriously the best!), then place it on your nail and wrap it all with aluminum foil. Do that with every glitter-adorned nail and wait a few minutes. The glitter and Liquid Sand polish will slide right off without a fuss. It's really a life changer.
Keywords
Get the latest beauty news and inspiration!
Sign up for our newsletter to receive the latest from Beauty Blitz delivered straight to your inbox.