Line We Love: SHOW Beauty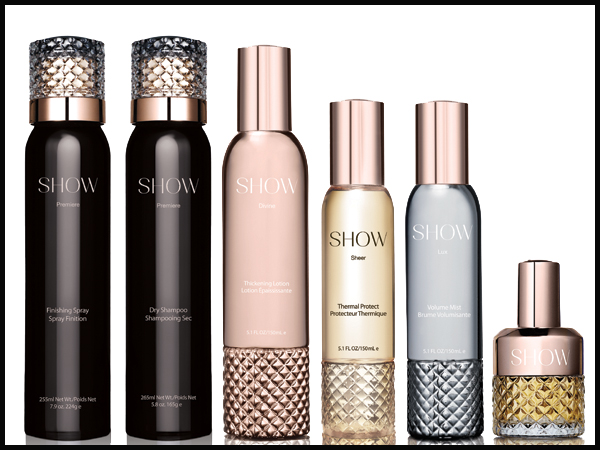 Ever wish your hair products would look as good as the fragrances and eye shadow palettes on your vanity? For some reason the hair care biz overlooks the aesthetic appearances of their products. Of course we would never judge a book by its cover (we'd rather have the products work instead of just looking good), but can you blame us for wanting something that smells luxe and is pretty enough to keep on display? Don't get us wrong, there are hair care brands that fit into this category - just not enough.
That's why British model and TV personality Tamara Ecclestone created SHOW Beauty, a collection of 11 styling and finishing products that smell, look and feel like luxury. 
I recently came across a bundle of SHOW Beauty products on my desk not knowing what they were for. The chic, textured black and gold boxes looked like there could be a variety of things inside - candles, diffusers, fragrances, but definitely not hair care. Well, I was wrong. Inside, the black, gold and rose gold bottles were surprising. I still couldn't believe there was hair spray inside such a stunning aerosol can. Yes, I just called an aerosol can stunning and meant it. Oh, and did I mention most of the other products come in glass bottles. This is hair luxury, after all! And being the camera-ready, gorgeous socialite that she is, Tamara knows what looks good. 
SHOW Beauty passed the looks test, but I was really curious to see if they worked as good as they look. I was immediately drawn to the
Premiere Finishing Spray
because, to be honest, I was looking for a new hairspray to try. The result: firm, yet weightless and buildable hold. The Finishing Spray manages to keep hair in place without being sticky and turning your strands into a helmet. I love how I was able to brush my hair out and still have bounce and texture.
It's also made with AC kerazyme to protect hair from heat styling tools, pro-vitamin B that repairs strands from chemical treatments and coloring and argan oil and wheat protein to nourish and retain moisture. 
Another great product is the Divine Thickening Lotion, an emulsion blended with aloe vera, mango, kiwi and ginger lily that leave your blow-out full and shiny.
I'm one of those people that can never seem to give myself the same blow out as my hair stylist and this product really helps me get that bombshell style on my own. It's even blended with pro-vitamin B to hydrate and protect, and sunflower seed extract that inhibits UVA and UVB oxidation. 
But the real star of the show (no pun intended) is the
Decadence Hair Fragrance
.
All of the products in the line have the brand's signature scent, a blend of rose water, coconut milk, caramel, almond butter and Madagascan vanilla created by the fine fragrance leader Givaudan.
The hair fragrance features the same unique scent, but with a few essential vitamins and minerals that fight free radicals and protect your hair color from fading. The small bottle fits into your bag, making this the perfect hair refresher. You'll probably end up swapping your body fragrance for this - it smells that good. 
SHOW Beauty really has all of the elements of a luxury hair care brand. Not only do the products look and smell divine, they do what they say they are supposed to do. What more can you ask for?
Buy SHOW at Bergdorf Goodman; prices range from $35 to $60.
Keywords
Get the latest beauty news and inspiration!
Sign up for our newsletter to receive the latest from Beauty Blitz delivered straight to your inbox.