Science! Behind the Scenes at L'Oréal's Labs in New Jersey
Yesterday I had the opportunity to visit L'Oréal's Research and Innovation labs in Clark, New Jersey with a group of beauty editors. Here are a few of the fascinating things I saw!
The U.S. research centers (the New Jersey facility plus three more in Illinois, Ohio and Washington) are L'Oréal's largest outside France, with 400 employees who are 63 percent female. This is one of the six buildings the Clark location occupies. The facility creates products for L'Oréal Paris, Garnier, Redken, Pureology, Matrix, Kiehl's, Maybelline and other brands under the L'Oréal umbrella.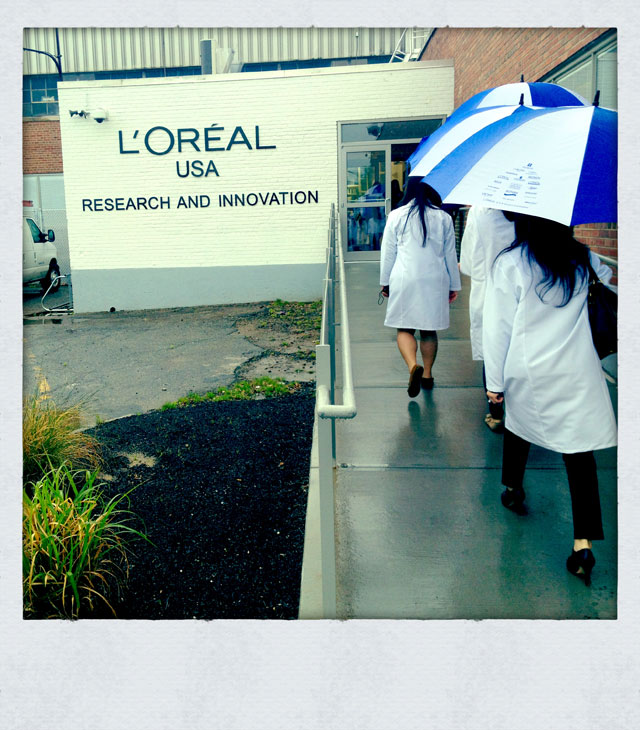 The area where licensed cosmetologists test hair products on models looked like a salon, with sinks, chairs and combs soaking in blue Barbicide. When the stylists compare products, they separate the model's hair into two sections and apply a different product to each side. Sometimes the consumers test products by doing their own hair while looking into a two-way mirror equipped with a camera that analyzes facial expressions (crazy!).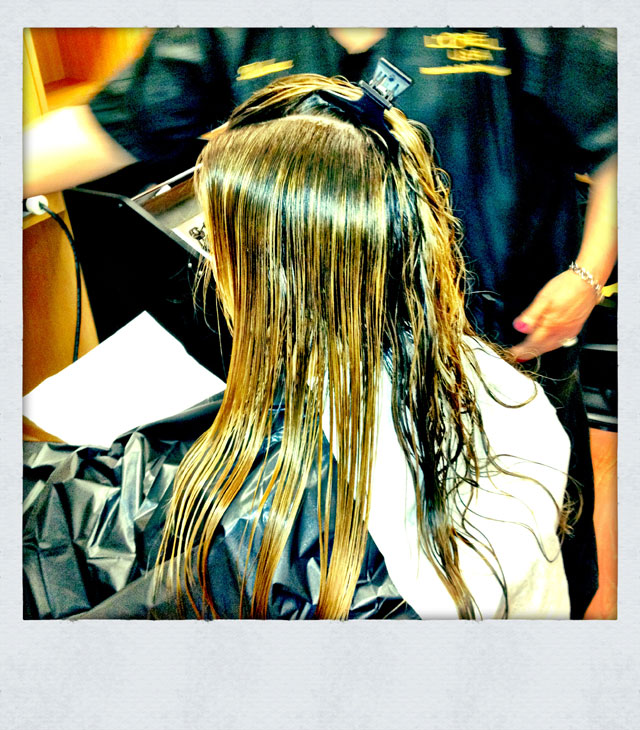 This scope zooms in on hair so researchers can analyze the cuticle.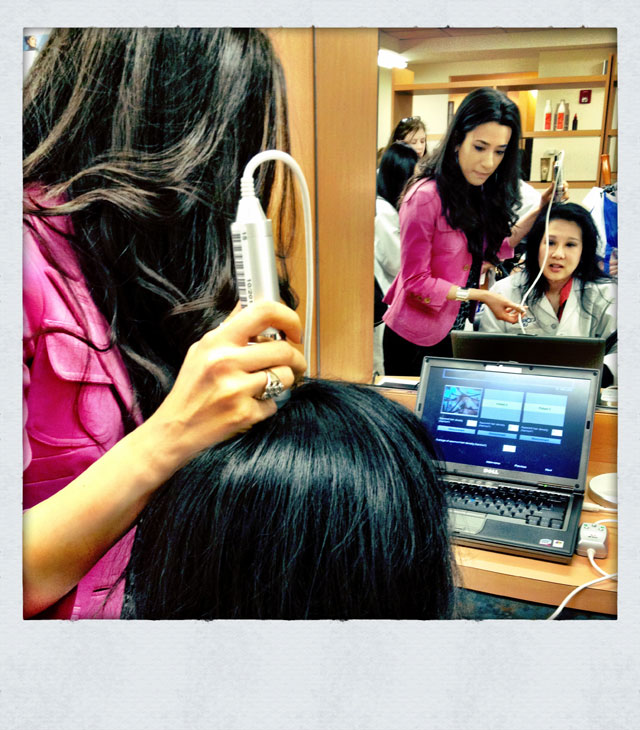 Next, we got to check out the ingredients that go into Maybelline mascara: things like black iron oxide for color, lash-lengthening fibers and waxes. Product formulators will use a soft, buildable wax to create volumizing mascara, and a harder wax to help a curling mascara hold its shape.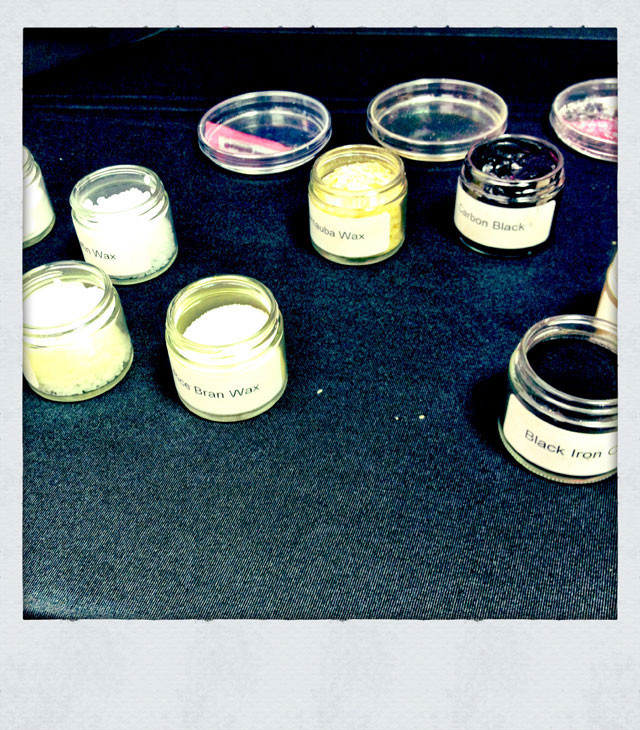 We visited a room where eight trained panelists were all applying the same bright coral lipstick in a brightly lit station complete with a sink and mirror. Dream job alert: These women go through six months of training to learn how to evaluate different qualities of products. A single lipstick might have 20-25 attributes that testers measure - anything from the product's shine to its tendency to bleed - and then rank on a 15 point scale. The panelists test new products, reformulations and even competitors' products, all without knowing what it is they're testing.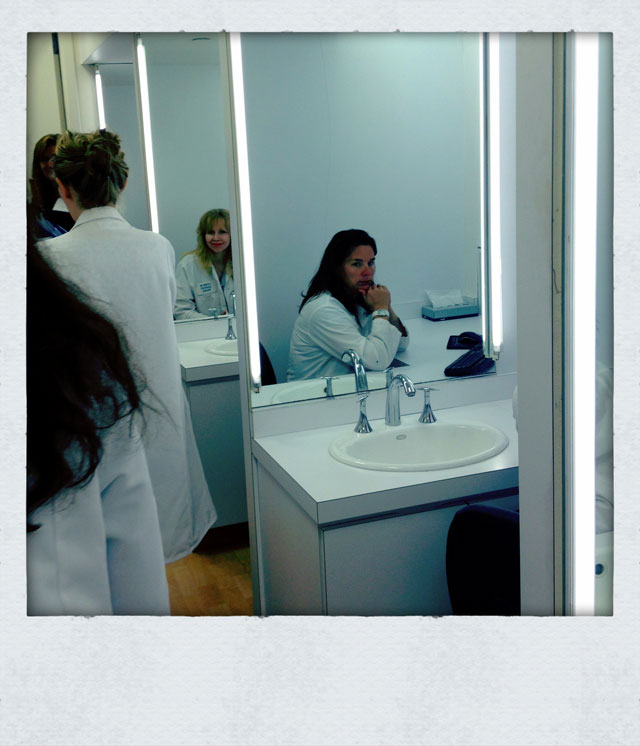 After we spied on a focus group from behind a two way mirror and checked out camera-equipped "bathrooms" (no toilets!) where consumers come in to apply hair and makeup products, we headed to the research labs. We weren't allowed to take pictures there, but here's what it looked like: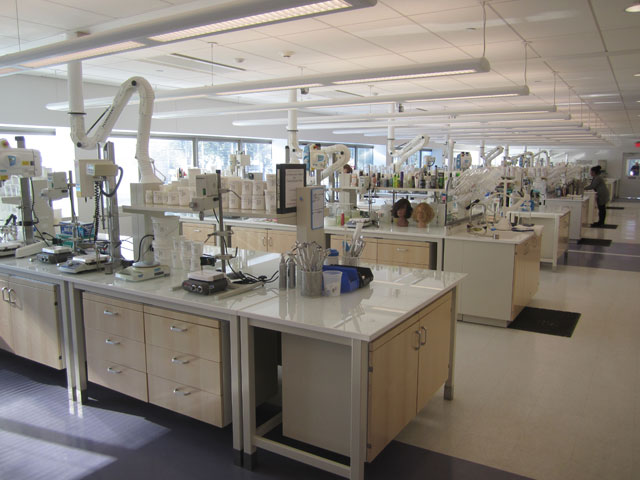 Notice the mannequin heads in the background? Scientists test hair products on them.
After small batches are formulated in the labs, they need to be scaled up in order to see if their ingredients translate to industrial-sized recipes. Ingredients are mixed in a kettle like this one for 8 hours to make a big batch of something like shampoo or conditioner.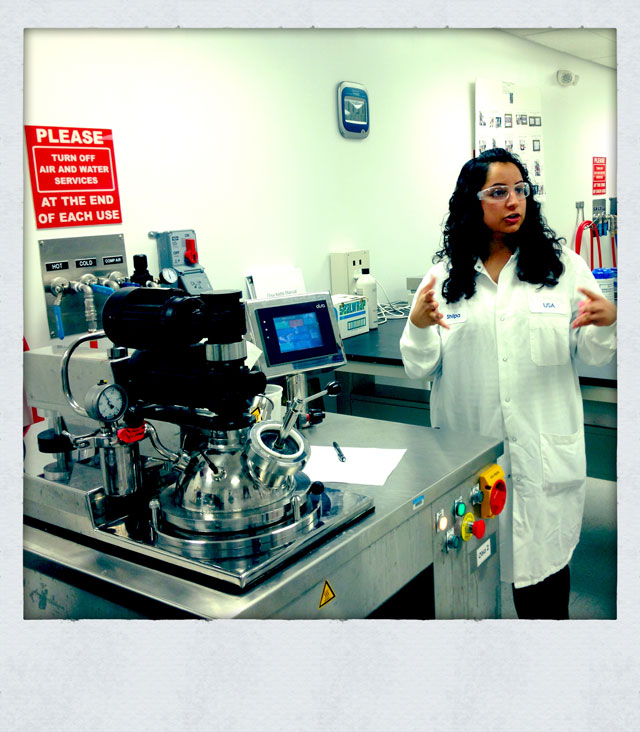 Since scent is such a major factor in hair products, smelling shampoo on an actual person's head is part of the process. Seriously!
At the skincare lab, a scientist showed off the equipment he uses to test products' effectiveness on the skin. You know those claims that say something like, "increases skin's moisture by 400 percent"? That's what these machines measure. Here, he's using a glossy-meter (that's really what it's called!) to measure the light-reflecting quality of a Kiehl's brightening product on my arm.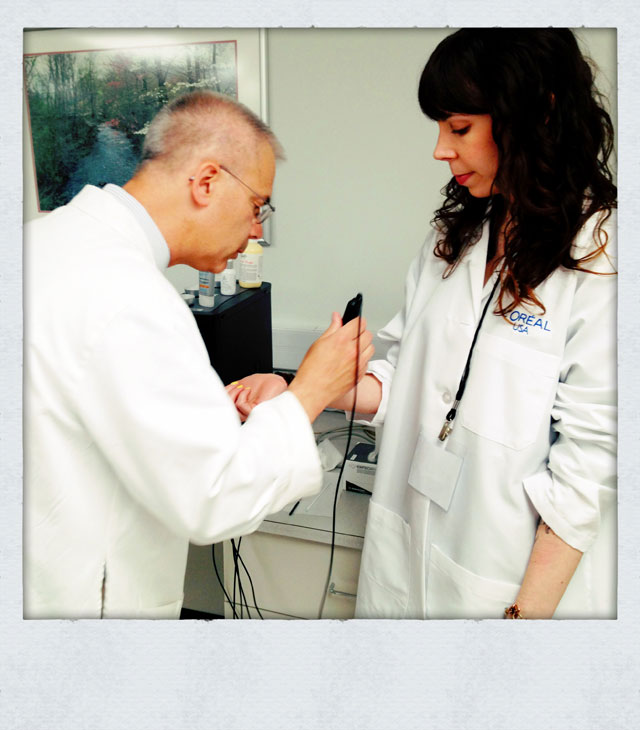 The last place we visited was an optics room. Here, huge camera and lighting contraptions take photos and video of faces before and after makeup and skincare products. This woman was having a wrinkle photographed after applying an anti-aging cream. We saw the before picture, and the wrinkle totally looked smaller after the product.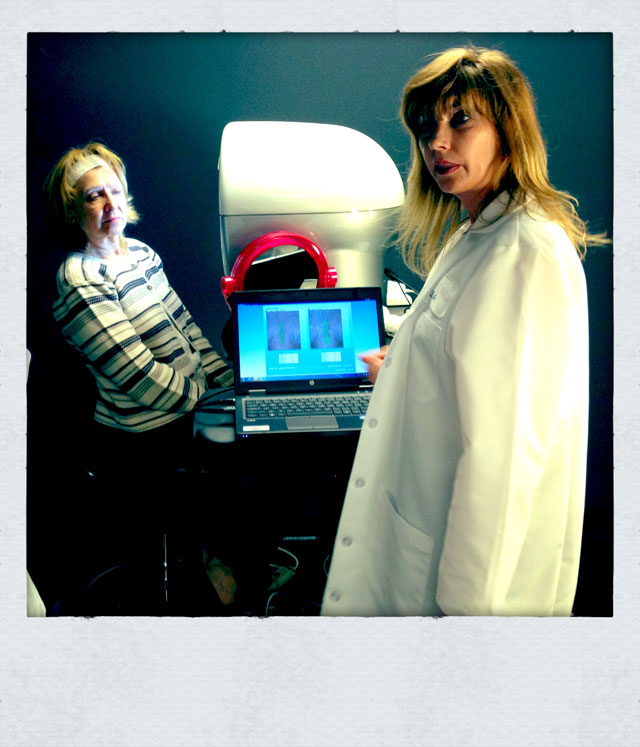 Oh, hi! That's me putting my head inside a Chromasphere, a giant orb that takes extreme closeup video from three camera angles. I got to see all the mistakes I made with my mascara, plus some fine lines I didn't know were there. Thanks, scientists!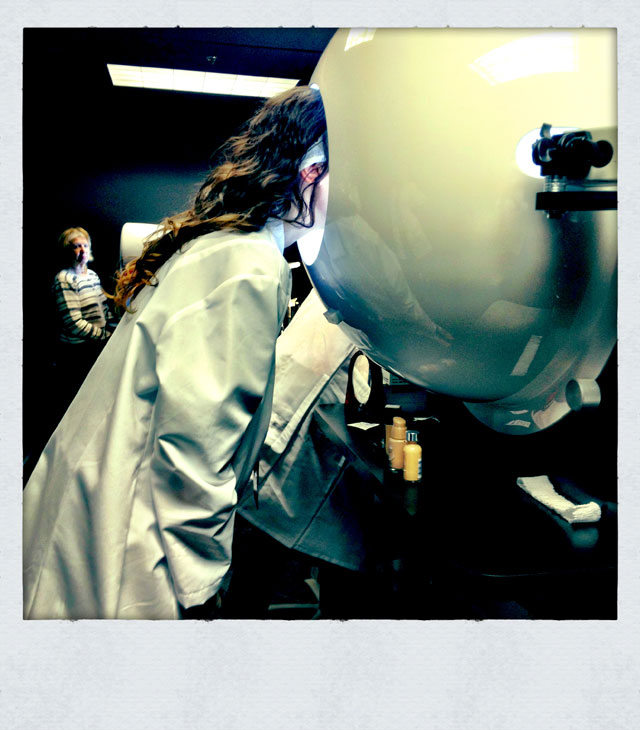 Keywords
Get the latest beauty news and inspiration!
Sign up for our newsletter to receive the latest from Beauty Blitz delivered straight to your inbox.