Beyond the Basics: How to Fake Great Skin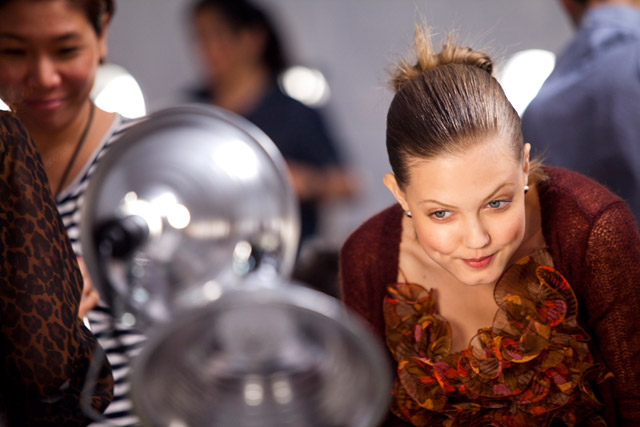 We know that you, beauty-savvy reader, are already versed in the fundamentals of foundation and concealer - choosing a shade that suits your skin tone, blending your base beyond the jawline, and so on. Instead of rehashing the old advice, we asked three makeup pros for their best expert-level complexion tips that you haven't heard before.
Double Up on Concealer
"I believe every girl needs at least two types of concealer," says Chanel celebrity makeup artist Kate Lee, who counts Rooney Mara, Keira Knightly and Anne Hathaway as clients. For under the eyes, she recommends a lighter formulation that's "luminous with a pinky or orangey hue (depending on your skin tone) to combat blue/green undertones." Kanebo Sensai Concealer is a favorite, along with Chanel Éclat Lumière  - "I often give this to my starlets to carry in their purse, as it's super compact and easy to use," Kate says.
"The second concealer should be for any discolorations or blemishes," says Kate. "It should match your skin tone as perfectly as possible, and be very dense in pigment" - Dermablend and Chanel Correcteur Perfection are two good options. Kate's not a fan of the old rule that says concealer should be a shade lighter than your foundation. "The advantage of matching the product to your skin perfectly is that you can retouch as often as necessary."
Have a Plan C
If your concealer isn't completely camouflaging a monster blemish (yuck), Kate advises adding one more layer as a last resort. "Use the corner of a small damp sponge and apply a mineral concealer," she says. "Gently dab and then blend away the edges. Be really careful about the color, it must match perfectly!" 
Dermablend Quick-Fix Concealer, $22, dermablend.com; Chanel Éclat Lumière Highlighter Face Pen, $40, chanel.com; Kanebo Sensai Concealer, $33, neimanmarcus.com; Chanel Correcteur Perfection Long Lasting Concealer, $40, chanel.com; Jouer Luminizing Moisture Tint, $38, jouercosmetics.com.
Add Dimension
Celebrity makeup artist Kayleen McAdams (she's the talent behind her sister Rachel's gorgeous red carpet looks, among other stars) offers this advice: "If you want to achieve the look of dewy skin but a sheer foundation isn't enough coverage for you, use your regular foundation where needed," on areas prone to discoloration, like the forehead, nose and chin, and "use a shimmery tinted moisturizer where you want the glow - along the cheekbones, the inner corners of the eye, the Cupid's bow. This will keep the makeup set well but give you a subtle, healthy glow," she explains. "Try Jouer Luminizing Moisture Tint. It's really the best one I have found yet."
Take Your Time
We asked makeup artist Petra Strand, whose Pixi line is sold at Target, for her best advice on choosing your perfect foundation shade. The lower cheek or jawbone is still the best place to try a color, she says. "It should be the same tone as your neck and blend into the rest of your face. Ideally, try it on your whole face and wait 30 minutes to see how it reacts with your skin. Some foundations change color with your pH."
Prep Your Canvas
Both Petra and Kate insist you must use a primer over your moisturizer. "Chanel Base Lumière helps to seal in moisture and perfect the texture of the skin before make up. This will help your concealer to stay in place and avoid the area becoming dry and patchy throughout the day," says Kate, who also recommends Nars Pro Prime Pore-Refining Primer for a similar effect. Petra points out, "There is a perfect primer out there for everybody. Look out for ones that are tailor-made to your specific need and do much more than prime." Her pick? "My Pixi Flawless Beauty Primer. It's like a radiance boost, hydrating serum and primer all in one."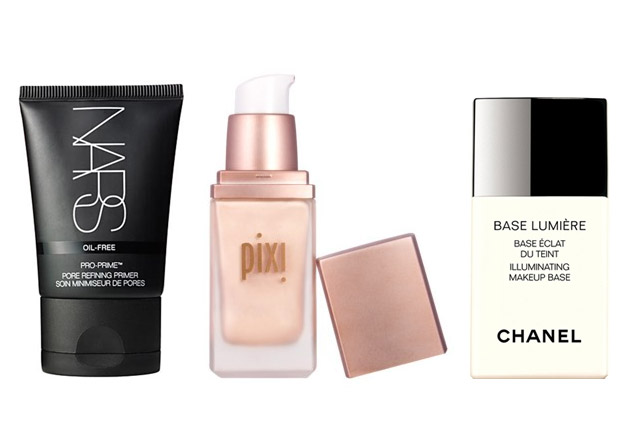 Nars Pro-Prime Pore Refining Primer, $32, narscosmetics.com; Pixi Flawless Beauty Primer, $29, target.com; Chanel Base  Lumière Illuminating Makeup Base, $42, chanel.com.
Don't Miss This
Which area of the face do most people forget to even out? "Around the mouth," Petra says. "I always advise using a concealer slightly lighter than the rest of your face and applying around the mouth before lip color. It makes the lips look bigger, the lip color look vibrant and helps color stay in place."
Keywords
Get the latest beauty news and inspiration!
Sign up for our newsletter to receive the latest from Beauty Blitz delivered straight to your inbox.