You Can Totally Pull Off Bright Orange Lipstick, Swears Makeup Artist Amy Nadine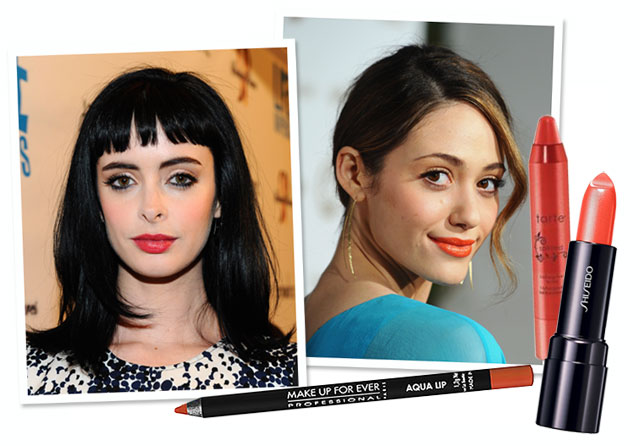 All this talk about statement lips lately has inspired me. And kind of made me sad.
The experiment inevitably goes like this: I'll see a photo of some runway Amazon effortlessly owning an electric fruit punch shade of lipstick. I'll dig a similar color out of the beauty closet, take it home and paint it on - only to look in the mirror and realize I look like an old, sad crazy lady or some sort of half-assed circus clown. It doesn't help matters when my boyfriend, confronted with my new look, exclaims, "What's on your face?!" (Clearly, he's not a big makeup fan.)
Humbled but not yet defeated, I told my troubles to makeup artist Amy Nadine, who works with basically everyone young and cool in LA (Lauren Conrad, Kate Bosworth, Rachel Bilson and Krysten Ritter among them) and also co-runs The Beauty Department. Here's what she had to say.
My Beauty Blitz co-editors look amazing in bright lip color, but every time I try, say, a hot pink or a bright coral it looks so, so wrong. Are there certain complexions that can't pull off a statement lip (or does it just take time to get used to one)? 
"Bright colors look great on all complexions! You're just not used to seeing yourself that way.
"If it's overpowering your look, you can switch to a tinted lip balm version. Tarte LipSurgence in Spirited is an amazing bright orange but because it's a balm, you wear it without it wearing you."
Oops, I bought an almost-neon lipstick because I loved it in the tube, but now I hate how it looks on me. How can I tone it down?
"Blot it! So many times I have my clients blot down their lipstick to take it down a shade."
Tell me about a couple recent lip looks you've created for your clients.
"Krysten Ritter wore [Tarte's] Spirited to her Life Happens! premiere and the pop of orange on her lip matched her orange pump. I also did a bright orange on Emmy Rossum for a Vanity Fair party last month that popped beautifully."
"Anyone can do an orange lip pop as long as you keep the rest of your features understated and natural. There are only two steps: 1) Line the entire lip with an orange liner (Make Up For Ever Aqua Lip Waterproof Lipliner in Bright Orange) and 2) layer an orange cream lip color on top (Shiseido Perfect Rouge in OR418 Day Lily)."
I guess I'll give it one more shot. What about you? Any fellow lipstick-phobes out there? Confident statement lip wearers: got any tips for me?
Keywords
Get the latest beauty news and inspiration!
Sign up for our newsletter to receive the latest from Beauty Blitz delivered straight to your inbox.