Beauty Daredevil: Body Bronzing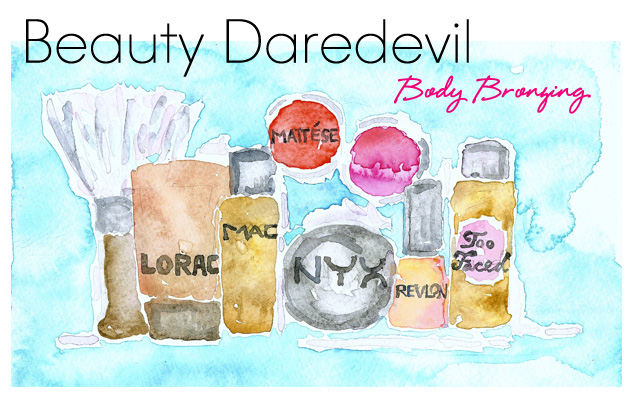 In our Beauty Daredevil series, we convince an intrepid reporter to try an experiment that we're too chicken to test ourselves. For this installment, contributor Jane Kirby gets inspired by classic actress hairstyles and travels around New York City wearing wigs to emulate their looks.
When the summer season began, I was excited to try to get a tan. Yet, after constantly hearing about the dangers of sun exposure, I decided to try out three different cosmetic looks.
The first makeup look was from the
Michael Kors Fall 2012
runway. The designer was inspired by women from the 1930s who didn't wear much makeup except for a breezy swipe of red lipstick. It also captured the American sportiness of a woman who had been on safari, or had a sexy après-ski windburn face. For the 'tan' I used
NYX Matte bronzer powder
in MBB03. a tan shade. Makeup artists at this collection applied red pigment to the cheeks and jawbone. For the cheeks and lip I used Mattese red blush in Claret with Vaseline for heavy shine.
After experimenting, I found using bronzer a shade darker than your skintone results in a deep, rich tan instead of the dreaded fake orange.
The only bronzing dangers are: You can end up smelling like a human coconut (several products are heavily scented).  Also, both liquid and powders rub off on clothing, chairs, and pretty much anything else you touch. 
Keywords
Get the latest beauty news and inspiration!
Sign up for our newsletter to receive the latest from Beauty Blitz delivered straight to your inbox.