Sephora, Pantone, Tangerine Tango and Even More Colorful Collections
Move over Hermes, there's a hot new orange in town, and it's called Tangerine Tango. Pantone (a.k.a. the color authority) has determined 2012 to be defined by this bold reddish orange, and they've partnered with Sephora to bring Pantone shade 17-1463 to consumers' makeup bags everywhere.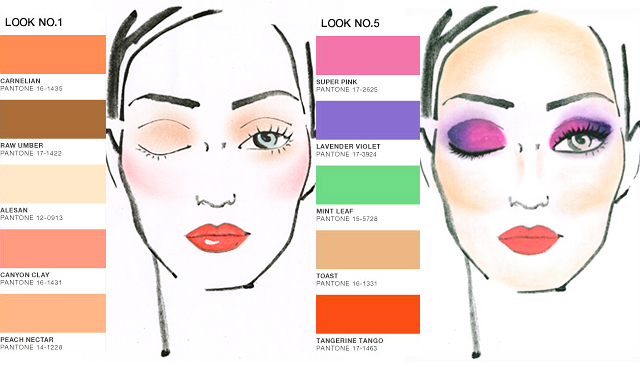 "What's so great about the Pantone and Sephora collection is now we can show the user how to incorporate Tangerine Tango into beauty," said Lisa Herbert, Vice President of the Consumer Division at Pantone. There are multiple palettes to choose from that feature Tangerine Tango plus other complementing shades of orange, coral, blue, purple and even pink.
And while Sephora shelves will be lined with Tangerine Tango brushes, lipsticks and nail polishes this spring, it's the color of the year we're talking about, so it's not going to be out of season anytime soon. "Tangerine Tango and the the red orange color family is not going away right away," Lisa assured us. "We are seeing it in our forecast for 2013. We're seeing it in interior design, swimwear, menswear, accesories, electronic accessories, cookwear. So it really transcends so many design industries."
While a Tangerine Tango Le Cruset sounds like a divine kitchen addition, we're simply swooning over the Pantone vision at Sephora. From the architectural packaging and the Tangerine Tango Brush Set (possible MoMA piece?) to the Color of the Year Nail Enamel Set (one shade in four different textures!), we couldn't imagine a better meshing of beauty and color.
If you're thinking that same thought, you'll be happy to know this is just the beginning. "It's an ongoing relationship," Lisa told us. "While Color of the Year will be here today, we'll follow up with a summer collection that's really going to look like a Pantone color palette in makeup. Looking to our color forecast, we'll be working with Sephora on a fall collection and then a holiday collection. And then we'll start it all over again with a color of the year in 2013."
Keywords
Get the latest beauty news and inspiration!
Sign up for our newsletter to receive the latest from Beauty Blitz delivered straight to your inbox.