Fluorescent Turbans and Semi-Punky Eyes at Marc by Marc Jacobs Spring 2013
Marc by Marc Jacobs is always a show to remember, and this season was no exception. The collection screamed spring with it's mix of colorful scarves, crisp whites, and vibrant, printed frocks. But what really got us excited was the cool double turban and "scrubby, sexy" makeup created by Dick Page for Shiseido.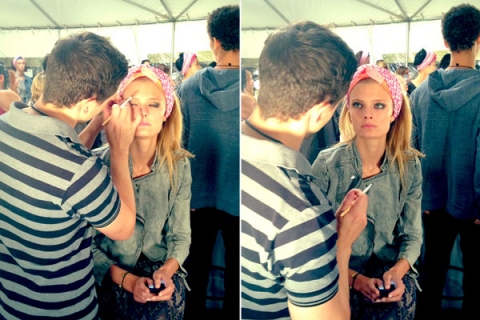 With so much going on in this super colorful collection, Dick Page didn't want the models' faces to disappear in the lime light. So he "loaded up" the eye with a "milky blend of sandy color and black [eyeliner]." "I thought - just define them and make them look cool," said Dick of the eye look. The "semi-punky tough eyes," were created with Shimmering Cream Eye Shadow in Sable from the lash line to the crease, and Caviar deep into the upper lash line. He blended the shades in a "scrubby" line at the lower lash line to create the "mucky" color. But it doesn't stop there. Dick went against what many magazines constantly preach as a don't - he complimented a strong eye with something on the lip. He tapped a bit Perfect Rouge in Fantasia (new for spring 2013) with his finger. "No woman in real life thinks, 'Well, I'm doing this with my eye so I should do this with my lips.'" We're on his side. The look was fun and playful without being too extreme.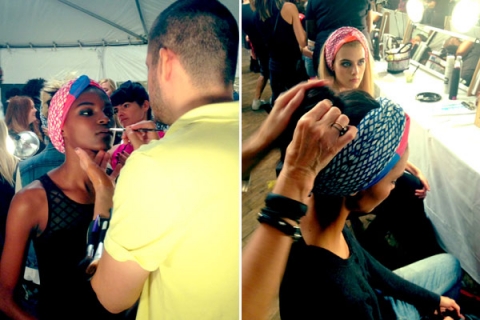 Over in hair, Fashion Week veteran and Redken Creative Consultant Guido Palau created an effortless look that we can't wait to try on ourselves. "The hair was simple for me, the main thing is the accessory," said Guido. Models rocked not one, but two different Marc Jacobs scarves worn as turbans down the runway. Each scarf had a different color combo and print. "The key when you have an accessory is to downplay everything else," said Guido. "Rough up the hair so it pairs with the prettiness of the scarf." He used Redken Guts 10 to add texture to the hair before pinning it up effortlessly. "I didn't want a knot or a twist," he added. "We didn't want to try to hard." As for tying the scarf: "I just wrapped it so it looks alright," he said. "There is no technique."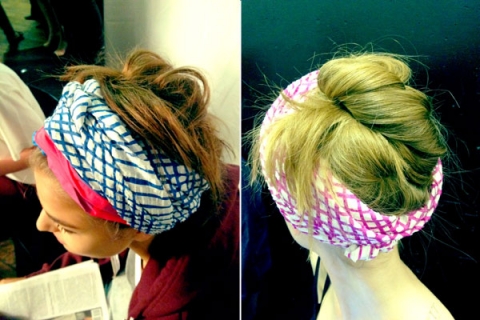 We're still dreaming about the beautiful turbans and the cool, overall look. We might have to try it on ourselves... like tomorrow! 
Plus, if your stuck on figuring out how to tie your own turban, try these three different ways we tried ours!
Keywords
Get the latest beauty news and inspiration!
Sign up for our newsletter to receive the latest from Beauty Blitz delivered straight to your inbox.