How To Create the "Blown Glass" Nails from IMITATION by Tara Subkoff - NYFW Spring 2013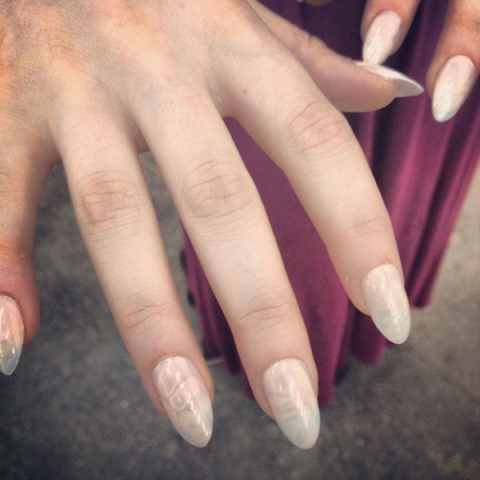 Backstage at IMITATION by Tara Subkoff, we spoke to CND nail artist Kristina Estabrooks about the story behind the "blown glass" nails and how to create them at home. 
"The story behind this look is that it's really like a window into the soul of a woman. The inspiration behind the show is all about different age groups of women and how they travel through their experiences, interpersonal lives and changes through fashion and beauty. So as the age group changes - so do the shape and length of nails, and interpretation. It really goes from the innocence of children who are just playing with nails, to teens who are trying to find out who they are by searching the web, looking for DIY ideas and trying new things, to the women over 30 who know what they want and who they are. We chose a longer, sleeker, almond length to accentuate the woman's body. We also looked at the admiration of the woman's body and the form that creates the body because without body you don't have fashion. It's the appreciation of what's underneath and inside the soul. So that's why we look at the blown glass as a window to the soul. " -Kristina Estabrooks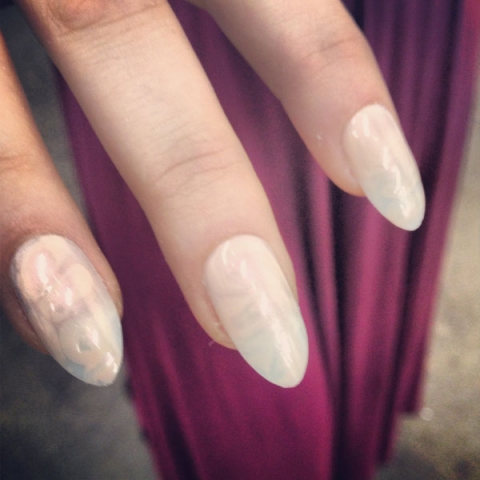 This cool, marbelized look adds extra oomph to the natural manicure. To recreate it at home, start by painting your nails with CND Copper Pearl Effect. While the nail polish is still wet, randomly place drops of CND Colour in Putty. Finally, create swirls using a wooden manicure stick. Top it all off with a layer of top coat and you've got nails straight from the runway! Trust us, the photos don't do these nails justice! 
Keywords
Get the latest beauty news and inspiration!
Sign up for our newsletter to receive the latest from Beauty Blitz delivered straight to your inbox.