Wicker Nails at Rodarte Spring 2013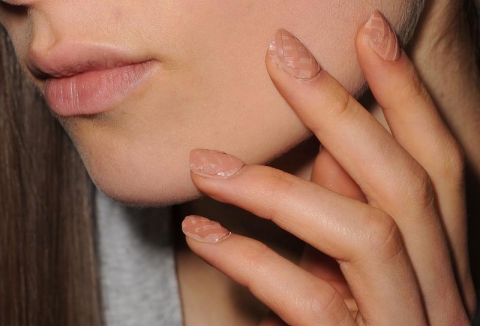 I despised my kitchen chairs growing up. They were antique wood with wicker caning on the seat. They were torturously uncomfortable. I could never stand on them when I needed to reach a top shelf. My feet would break right through. And the woven caning often left decorative red welts on my hamstrings.
But they were beautiful chairs. And I would stare at their peaceful geometry before school every day.
And now, thanks to CND, I'll be mesmerized by a wicker pattern on my fingertips all day.
At Rodarte, CND Nail Artist Michele Huynh designed "Modern Medieval" manicures by weaving strips of matte custom-blended CND Colours in Desert Suede, Frosting Cream and Chocolate Milk over a base blend of high shine CND Colours in Desert Suede and Frosting Cream.
Each nail tip required 15 minutes to hand-detail. But don't you think it's worth it?
Keywords
Get the latest beauty news and inspiration!
Sign up for our newsletter to receive the latest from Beauty Blitz delivered straight to your inbox.