Marc by Marc Jacobs Makes Pigtails Bad-Ass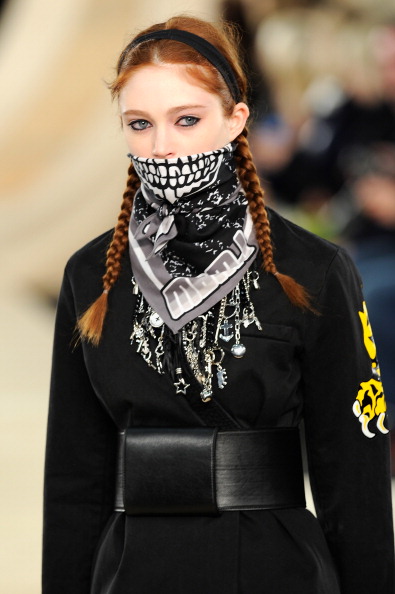 Yesterday's Marc by Marc Jacobs show may have you reconsidering pigtails, even if you haven't worn the style since before you got your driver's license. The Fall/Winter 2014 collection was a reinvention for the label, now called MBMJ, with new co-designers Luella Bartley and Katie Hillier at the helm (Marc himself has stepped back from the job, but he did sit front row). And fitting with the theme, the beauty look managed to put a fresh spin on a look that most of us haven't thought about wearing since grammar school.
Backstage, Redken Creative Consultant Guido cited Japanese manga cartoons and Wednesday Addams as inspiration for the tight braids placed low behind models' ears and finished with black headbands in the style of "ninja punk schoolgirls." Guido used two new Redken products,
Flex Shape Factor 22 Sculpting Cream-Paste
and
Pillow Proof Blow Dry
to create the perfect texture. The hairstyle worked as a youthful counterpoint to the collection's high necklines and gray suits, and also fit with the show's setting, which featured plywood structures that looked like skateboard halfpipes.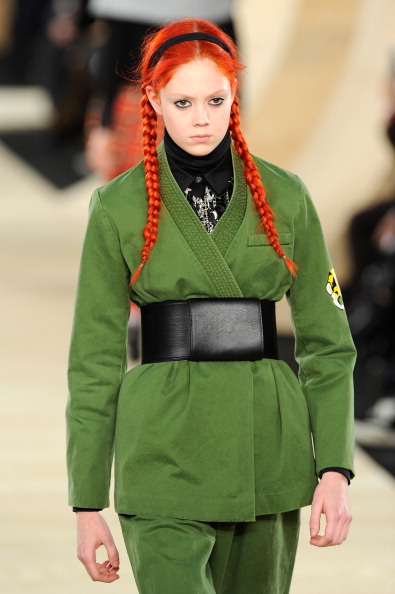 Shiseido Artistic Director Dick Page kept the makeup simple and true to the tough girl image. "It's just a ton of black eyeliner," he said backstage. "I'm using the
Accentuating Cream Eyeliner from Shiseido
[in Black] on a soft brush, patting it on, into the waterline on the upper and lower lash line." Page finished the look by adding "tons of mascara — really goopy and clumpy — and leaving the skin alone as much as possible."
Watching the hair and makeup teams painstakingly craft what could have been a really basic look, we realized that it's the details that made this one work: the strict tightness of the plaits, the way the liner hugged the inner rims of the eyes. In fact, "We had some inspiration pictures that were very winged, and they were a bit glammy, and I didn't feel like it was right," Page explained. "So we came up with something a little bit punky" instead. We imagine these schoolgirls are heading straight for detention. 
Photos by Getty Images.
Keywords
Get the latest beauty news and inspiration!
Sign up for our newsletter to receive the latest from Beauty Blitz delivered straight to your inbox.