A Mask That Turns Hair to Silk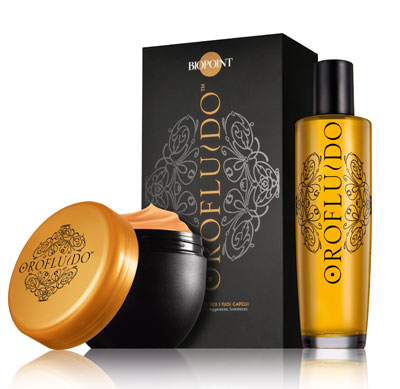 There's been a recent surge of excitement around the beauty blog circuit about indie haircare brand Orofluido launching a full range of products stateside. Orofluido hails from Europe, where it claims to be the "No. 1 hair oil brand," with products inspired by the beauty rituals of ancient Morocco, Egypt, and Phoenicia. Orofluido products promise "to impart incredible silkiness, lightness, and shine on all hair types" via a mix of three organic oils: argan, cyperus, and linseed.
One of my beauty goals has always been to recreate the soft, fluffy hair I had when I was a baby, so I decided to put the Orofluido Mask to the test. The first time I tried it, I followed the instructions to the letter (leave in for three to five minutes). My hair did feel softer after the treatment, but the silkiness lasted only till my next shampoo.
Undeterred, I tried it the mask once again last Thursday. This time, I left it on for twenty minutes. When I rinsed it out, I couldn't believe the silky mass I was towel-drying was my hair. It was so smooth I swear my fingers actually glided through my strands.
The best thing is four days (and four hair washes) after the treatment, my hair still retains that amazing softness. I was an obsessive hair toucher before, but now I'm simply a goner.
The Orofluido Mask retails for $29.99 and can be found at professional salons worldwide. The full range also includes a shampoo and conditioner ($14.99 each), Spray Shine ($19.99), and Beauty Elixir hair oil ($29.99).
- Xiao, Beauty Blitz Intern
Get the latest beauty news and inspiration!
Sign up for our newsletter to receive the latest from Beauty Blitz delivered straight to your inbox.