Google Glass is About to Change the Way You Watch Beauty Tutorials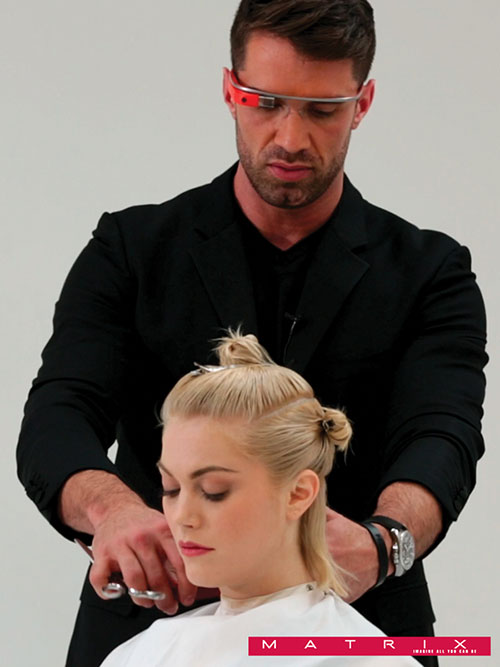 Remember a world before YouTube videos? I'm pretty sure nobody knew how to fishtail braid or make a sock bun unless they actually went to cosmetology school. But these days, thanks to tutorials on the internet, my teenage cousins know their way around a curling iron better than I ever will.
Now the concept of beauty education is about to be revolutionized once again with the release of
Google Glass
.
L'Oréal-owned hair brand Matrix announced today that they're partnering with Google to launch Matrix Class for Glass, a program that will teach you how to style hair while looking through the eyes of a master stylist. 
The program has three parts that will roll out over the next few months. The first is a video series that will feature styling sessions with bloggers, filmed from the point of view of Matrix Celebrity Stylist George Papanikolas (the man who made Kim Kardashian a blonde) and Matrix Artistic Director Ammon Carver. Another part involves education for hair professionals. But the most exciting one is something the brand is calling the Matrix Eye for Style Salon Chair. You'll be able to book an appointment with Papanikolas, who will capture your styling service via Google glasses he wears and email you the personalized tutorial video. This means replicating the way your hairdresser styled your cut in the salon is about to get a whole lot easier.
Just imagine where we could go from here. Salons across the country could send clients home with video instructions on how to make the most of their new cuts. Google Glass could tell you exactly where to pin your French twist, or walk you through the shadow placement in a smoky eye. You could figure out if a new moisturizer will make you break out just by looking at its packaging. Now, can someone work on making the specs look less geeky? I'd like a tortoiseshell option to go with my brunette locks, please.
Keywords
Get the latest beauty news and inspiration!
Sign up for our newsletter to receive the latest from Beauty Blitz delivered straight to your inbox.