Microtrend: Bold, Boyish Brows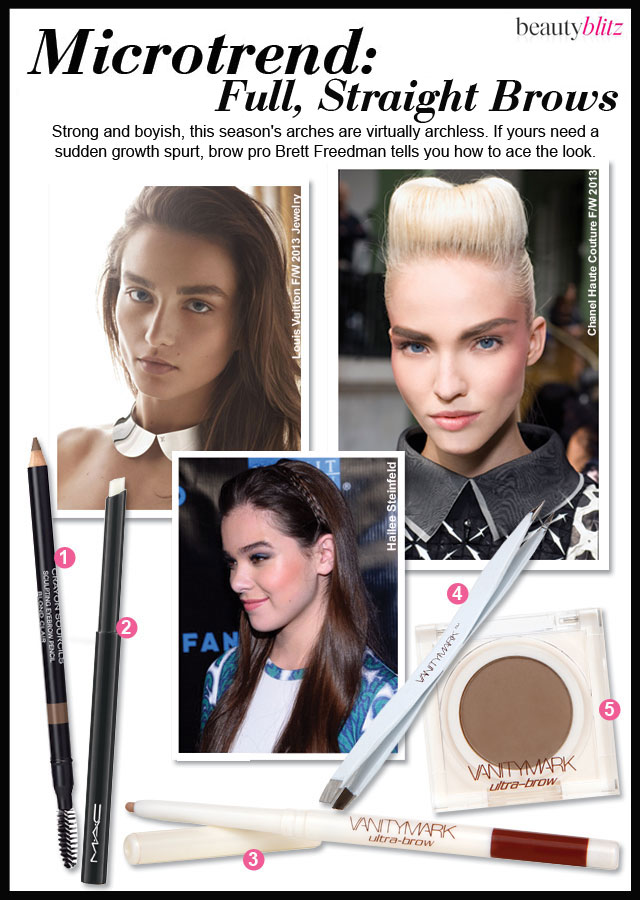 "The best way to get a fuller brow look is to tweeze and trim first. Seems odd, but removing sparse, cobweb hairs makes brows look more substantial." - Brett Freedman

 
We've witnessed and tried a series of bold brow looks ranging from 
purple statement brows
 to 
sequined Chanel appliques
. This fall, you'll be hoping for a sudden growth spurt to get the full, boyish brows. Another distinguishing factor: They're virtually archless. 
 This season's arches are straight with a slight point, like an the French accent aigue and accent grave.
Brett Freedman's Lush Brow Guide
Veteran brow expert gives Beauty Blitz a simple guide to perfecting - and faking - the look.
Step 1. Tweeze strays between the brows, near the temple and below the arches, without shaping them. 
 
Step 2. Brush your brow hairs up, and snip just the tips, where the hairs bend. To get the lush brow look, cut just tips that stick up. You don't want brows to look too polished. Brush hairs down into the arch, and snip unruly ends.
Step 3. Take a brow color that's one shade lighter than your hair and fill in just behind the natural hairs. "This will look like a natural shadow of definition," Brett says. 
Step 4.
 Assess your "raw brow." Using light brow color (either 
brow pencil
or
powder
), stroke slightly above and below hairs.
Build out the tail a touch
. Use a slightly deeper shade blend in any bare patches.
Tip: Don't fill downward, below the brow line and arch. Instead, open up the brow by stroking behind the hairs and focus on filling above the arch and tail. "It adds lift without dragging down the eyes. I do this on everyone from Catherine Zeta-Jones to Katy Perry."
Step 5.
Blend and feather to get a soft, diffused look.
Use a
spoolie
 or clean wand from an old mascara to avoid looking too sharp. "Even if you are doing a very glammy, pin-up girl brow, you want it to be crisp," Brett adds.
Tip: Don't use eyeshadow to fill in brows. They're usually not matte, ash-based and sheer enough. If they look fine in person, they may still look unflattering in photos once the flash hits it, cautions Brett.
Step 6. Brow gel is a must a "full, crisp up-and-out finish." Brushing brow hairs up looks the most natural look.
Step 7. Stand back and look at your brows in the mirror. With the deeper shade "you want to nudge and fudge the shape" to even out anything that needs balancing. Great lighting is a must.
Products
Keywords
Get the latest beauty news and inspiration!
Sign up for our newsletter to receive the latest from Beauty Blitz delivered straight to your inbox.