Moisture Gets a Makeover: Vaseline Spray & Go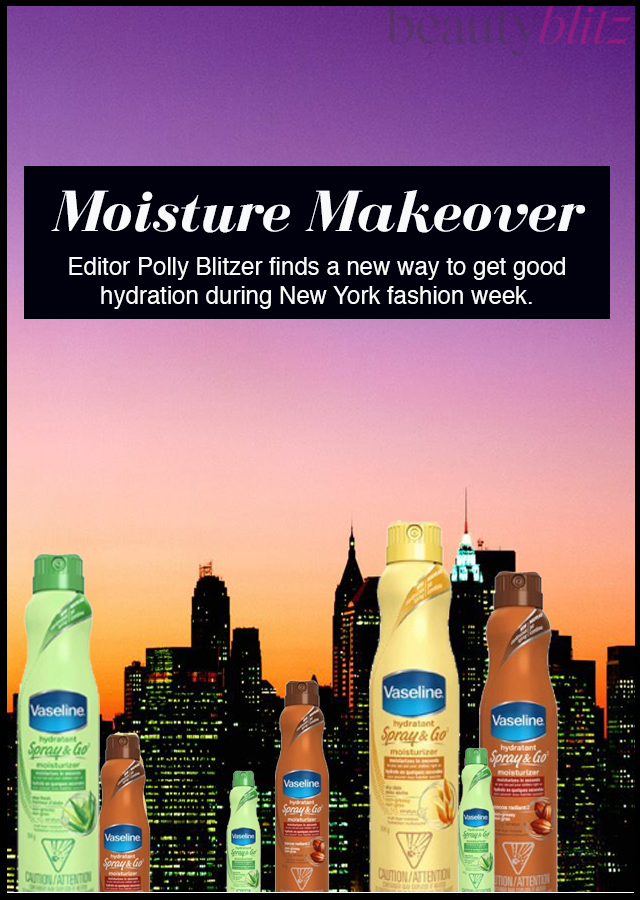 Does your denim rebel against oil-slicked legs? Do your arms feel like they're coated in goop? Well, guess what? I have been there. If dealing with your moisturizer is a sticky situation, my new obsession can fix it. Enter Vaseline Spray & Go Moisturizer.
Last week, Vaseline invited me to join them for a special fashion show during New York Fashion Week to honor mothers and support their charities of choice. Vaseline knows our readers love a good time, so they enlisted Beauty Blitz to give you guys get a glimpse of the show from backstage. Then you shared my front-row seat and snuck in to the after-party. Lucky you!  Some highlights, in case you missed them: my ankle got the spotlight with this cool Rick Ross-inspired tattoo, seeing my fitness sensei David Kirsch chase after his adorable twins, crushing on the talented Motown-minded tot DJ Fulano and making crazy kaleidoscopes out of the brand's logo. 
The energy backstage at this show, Strut: Fashionable Moms Fashion Show, was at full tilt. There was the usual fashion frenzy (hairstylists fluffing, blowdrying buzzing, makeup pros swiping, stylists steaming, models stressing, assistants schvitzing). But the fun factor was amplified by throngs of cute tots primping for a sashay session with mom (or dad, in one instance).  
As an old-timer (this was my 25th season covering fashion week), I've seen hundreds of MacGyver tricks to get models ready without a messy beauty malfunction. When models show up with dry, ashy limbs, moisturizer is key. and while standard lotion will get skin luminous and hydrated, it will inevitably stain peau de soie skirts and sheer chiffon blouses before their debut on the runway. Some pros have used salad misters to apply a sheer layer of diluted lotion. Others forgo hydration for fear of ruining garments.
For years, I've begged beauty companies to launch a body serum. I have zero tolerance for wet, greasy cream. 
Vaseline Spray & Go Moisturizer is the most innovative formula, delivery system and concept I've seen launch for the body. I'd like to think my beauty aversion influenced Vaseline - I've begged brands for years to launch a body serum. I have zero tolerance for wet, greasy lotion. Those brilliant researchers at Vaseline were tinkering with lab beakers and glycerin compounds long before I cursed out my first pair of lotion-slimed leggings.
Here are a few reasons you will love this product as much as I do:
1. It's works in a flash. All you need to do is spritz it on, rub it in. . .and get on with your day. The formula absorbs so fast, it's like a quick-dry top coat for your body.
2. It's easy to apply. There are no blind spots. You can reach every bit of skin, even on your back, because the nozzle dispenses a fine mist that will spray in any direction, even when you're holding the can upside-down.
3. It's hydrating. I  know that seems obvious. I mean, we're talking about moisturizer here. But if it dries that quickly after applying, it almost seems like the moisturizing claim is hype. But it's not.
4. It smells and feels good. You won't be doused with berries, citrus zest or exotic tropical notes. Vaseline Spray & Go Moisturizer comes in three subtlely-scented varieties:  Total Moisture (contains pure oat extract to soften skin), Aloe Fresh (contains pure aloe to freshen skin) and Cocoa Radiant (contains pure cocoa butter to make skin luminous). They all make your skin feel healthy and hydrated.
5. It comes with dance moves. Because it absorbs so quickly (in 10 seconds or less), Vaseline suggest the following choreographed beauty moves. (Fret not. You do not need Janet Jackson "Rhythm Nation" coordination). To apply, spray up, switch hands, spray down, and then rub in. ("Up, Switch, Down, Rub"). If you're confused, try "The Macarena." Then revisit "The Vaseline."
6.
It comes bearing gifts
. If you don't want to take my word for it, try for yourself. Vaseline is giving one lucky Beauty Blitz reader a bottle of the product,
plus a $100 gift card to Gap Inc.
(valid at Piperlime, Gap or Banana Republic.), so you can purchase your own custom outfit and experience first-hand how quick, effortless and downright awesome it is to use the product right before getting dressed.
Enter the contest on October 12 for a chance to win!
Presented by Vaseline.
Keywords
Get the latest beauty news and inspiration!
Sign up for our newsletter to receive the latest from Beauty Blitz delivered straight to your inbox.