Here's the Dirt on Mud Masks for Your Face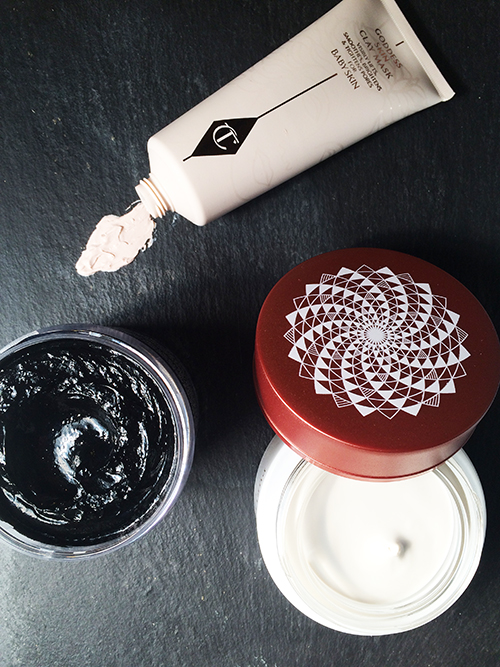 Mud may have been the first beauty product humankind ever experimented with, and there's still something primeval about covering your face in a layer of clay like your cavewoman ancestors probably did. But the latest mud masks are anything but old school, which is to say they're not made to suck every last drop of moisture out of your complexion like the ones you remember. These new complexion purifiers vacuum excess oil and impurities out of pores while leaving skin baby soft — the best of both worlds. And they do it by carefully balancing all-star ingredients, including specific types of mud from exotic sources. In other words, this isn't the topsoil from your tulip bed.
Peter Thomas Roth and his wife, Noreen, traveled all the way to Ireland to source the namesake ingredient for the new
Irish Moor Mud Purifying Black Mask
($58), which comes from a bog that's 9,000 (!) years old. "The bog we harvest from was once a glacier," Roth explains. "As the glacier melted, it filled with peat and flourished with plant life. Plant life that may no longer exists on the surface is still a part of the moor mud compost. Untouched for thousands of years, nutrients sit in their own elements only to become more enriched by time."
"We core down nine feet to extract the most nutrient-rich Irish Moor Mud by hand," he explains. "It contains high levels of anti-oxidants and key minerals including iron, manganese, magnesium, molybdenum, copper and zinc which help repair and nourish skin while preventing future damage." This magical mud is blended with hydrating hijiki seaweed, volcanic ash and activated charcoal to create a jet black mask that looks slightly scary in the jar (and on your face when you surprise your S.O.), but leaves skin purified and refined.
Peter and Noreen Roth harvest mud from a 9,000-year-old Irish bog. Photo: Courtesy of Peter Thomas Roth
Of course, Europe is home to more than one type of complexion-enhancing dirt. Charlotte Tilbury's new
Goddess Skin Clay Mask
($70) looks a bit farther south, as it blends soft Spanish clay with sweet almond and rose hip oils to draw out impurities while moisturizing skin at the same time. Though it's said similar clays from Spain and Ibiza have been used to treat skin issues since 700 B.C., we'll wager the ancients didn't have Tilbury's collagen-boosting BioNymph Peptide Complex in their formulas. And the fragrant frangipani flower extract in this mask makes wearing it an aromatherapeutic treat. 
Another ingredient that dates back to ancient times, copper, is they key to the
Pore-Minimizing Clay Mask
($58) from new Santa Fe-based skincare brand
Purity of Elements
. The blend of kaolin clay, orange and lemon peel extracts and vitamin A features the line's signature Copper 5 Complex. Copper has been shown to help skin maintain collagen and elastin, which is why it's turning up in more and more skincare products these days.
Finally, from the product description as "a juice cleanse for your face" to its fans' propensity for posting mask-selfies (melfies?), Glossier's
Mega Greens Galaxy Pack
($22) is a mud mask for our modern times. Its white kaolin clay and exfoliating bitter orange peel detox pores, while avocado oil and aloe condition the skin. Phytonutrients from leafy greens (parsley, spinach, cress sprout extract) and a superfruit antioxidant blend help protect skin from environmental damage. This one is perfect for younger complexions and oily skin types. But no matter which version you choose, your newly cleansed pores will thank you. Funny how mud can make your skin look and feel so clean, isn't it?
Keywords
Get the latest beauty news and inspiration!
Sign up for our newsletter to receive the latest from Beauty Blitz delivered straight to your inbox.