The New FDA-Approved Sunscreen Rules to Live By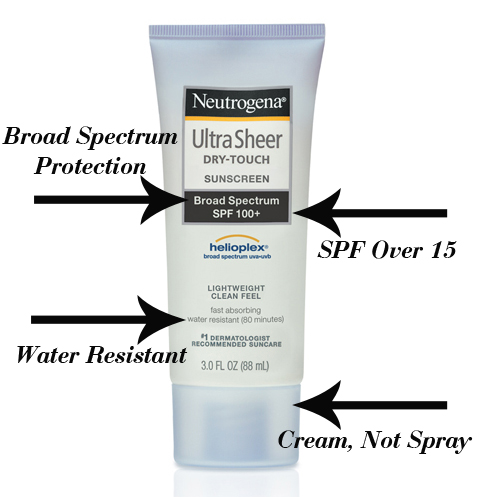 I can't emphasize the importance of sunscreen enough. As a former tanning salon employee, I've seen the damage UV rays can cause up close - and let me tell you, it's not pretty (think leather-like skin, wrinkles and unnatural color). Sure, we all crave a summer glow but with the latest self-tanning formulas, having a beautiful tan doesn't have to cost you your life. Personally, every product I use on my face and body in the morning has some sort of SPF (so applying sunscreen doesn't have to take up any extra time in the morning anymore), yet my skin doesn't look like I could audition for a part in the next vampire flick. My secret? Jergen's Natural Glow. It's the perfect moisturizer that offers an ideal amount of color on my very fair skin. Moral of the story is: You can have your cake and eat it, too.
In the past few years, sunscreen rules have changed about as often as Miley Cyrus changed her hair. So, I can understand when people get confused about what type of sunscreen is safe and reliable. Luckily, The New York Times published an article a few weeks ago about the latest sunscreen rules just in time for the dog days of summer. And most the sunscreens on shelves must abide by labeling rules from the Food and Drug Administration, which makes for easy shopping. I encourage everyone to read the article and live by these rules this season. I've rounded up the most important rules below.
- Always apply a golf ball-sized dollop of lotion, nothing less.
- Reapply sunscreen every two hours.
- Just because you're using a crazy-high SPF, doesn't mean you don't have to reapply as often!
- Look for sunscreens labeled as "broad spectrum protection." This means you will be protected from UVB (burning) rays and UVA (aging and damaging) rays.
- Anything under SPF 15 will not protect you from skin cancer. (Sorry!)
- Anything labeled as waterproof is - excuse my language - BS. Look for labels like "water-resistant" with a time limit! Usually sunscreens will have a 40 or 80 minute limit. Then, it is ineffective and you have to reapply. (This means sweating, too!)
- Stay away from sunscreen sprays and powder, they just don't get the job done.
- Buy a sunscreen that uses zinc oxide and/or titanium dioxide. Avoid oxybenzone.
- Stay extra protected with hats, scarves and coverups!
See, that's not so bad! Check out our favorite sunscreens who abide by the rules below and more of our favorites here!
- Neutrogena Ultra Sheer Dry-Touch Sunscreen Broad Spectrum SPF 100+, $11.49
Why we love it: SPF 100+ and broad spectrum protection offers high protection from sun damage, water resistant for 80 minutes and doesn't leave a white residue.
- La Roche-Posay Anthelios 60 Melt-In Sunscreen Milk, $35.99
Why we love it: UVA/UVB broad spectrum protection of SPF 60, packed with antioxidants, melts into skin in a flash and water resistant for 80 minutes.
- Shiseido Urban Environment Oil-Free UV Protector SPF 42 for Face, $30
Why we love it: Oil-free broad spectrum protection, fights three major causes of skin cell damage, water resistant for 40 minutes, leaves a pore- and shine-free finish.
Have a safe summer, everyone!
Keywords
Get the latest beauty news and inspiration!
Sign up for our newsletter to receive the latest from Beauty Blitz delivered straight to your inbox.