Sleeping Masks to Fend Off Pillow Face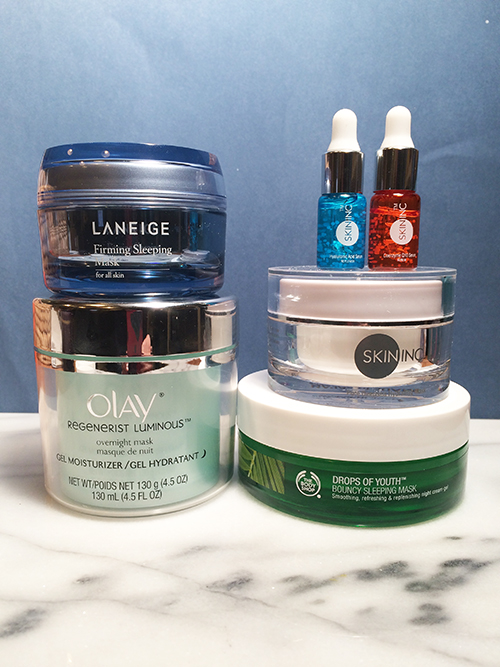 I don't remember the first time I heard a dermatologist say that sleeping with your face smushed into a pillow creates wrinkles, but it's one of those things that's constantly in the back of my mind. (One doctor interviewed by a magazine said she could tell which side of the face her patients slept on just by looking at them, which is horrifying.) I even tried a
really uncomfortable pillow
once in an effort to retrain myself to sleep on my back. But nope, trying to consciously change the way you sleep while in an unconscious slumber is basically futile, right up there with refusing to smile in order to prevent laugh lines. Not going to happen.
So what's an incorrigible, side-sleeping face smusher to do? Luckily, I've found other ways to maximize my beauty sleep, even if I do wake up with pillow lines on my right cheek every morning. And my current go-to is the sleeping mask.
If it seems like every skincare brand is debuting a leave-on overnight mask these days, you're not imagining things — the category has gone from nonexistent to BB cream-level ubiquitous in the past year or two. And it's no wonder: not only do these masks give instant gratification in the form of a soft, moisturized complexion, they also take advantage of skin's natural overnight repair process.
As we sleep, "Old skin cells shed, environmental free radical damage is removed and new cells are encouraged to the surface of the skin," says Dr. Terry Loong, London-based Integrated Skin Doctor and Global Skincare Expert for The Body Shop. "Sleep boosts melatonin, a powerful antioxidant which helps fight age spots and wrinkles. Growth hormones which boost the skin's collagen, elasticity and firmness are generated during sleep."
Essentially, your nighttime skincare routine takes advantage of this confluence of factors. This thinking has led The Body Shop to introduce its first overnight mask, the
Drops of Youth Bouncy Sleeping Mask
($30), which has a "memory-shape" texture that helps it cling to skin. Edelweiss stem cells, the product's star ingredient, have skin cell renewing properties. 
The sleeping mask frenzy started in South Korea, so it's only appropriate that K-beauty brand Laneige is introducing its second overnight offering to the U.S. in Target stores this spring. The Firming Sleeping Mask ($30) has a springy, gel-like texture similar to The Body Shop's version (it's hard to convey, but think panna cotta). This one features a moisturizing, soothing, peptide-rich complex called SleePOP and a scent that aids in relaxation. It's targeted more toward the anti-aging market than the brand's existing (and fantastic)
Water Sleeping Mask
($23), which has more of an all-ages moisturizing focus.
American drugstore brands are getting in on the action, too. Olay has just launched the
Regenerist Luminous Overnight Mask
($23.99), with vitamin B3, mulberry extract to even skin tone, and moisture-locking humectants. Its texture is a little lighter than the other two, which is good for those of us who don't like the feeling of products sitting on our skin. 
That said, the way that sleeping masks seal in everything under them is largely the point. Customizable skincare brand
Skin Inc.
, which just launched in U.S. Sephoras after catching on in Europe and Asia, offers the
Pure Deepsea Hydrating Mask
($75) as the final step in its three-step "prep-nourish-seal" nighttime routine (no 12-step skincare program here). After exfoliating with
Pure Revival Peel
($55) and applying a targeted-to-your-needs custom serum (designed via your answers to an online skin analysis), you're meant to lock in all the active ingredients with the leave-on gel mask — no night cream needed. It's a new way of thinking about the nighttime beauty routine, but the results are worth it.
Keywords
Get the latest beauty news and inspiration!
Sign up for our newsletter to receive the latest from Beauty Blitz delivered straight to your inbox.