Nicki Minaj's Barbie Doll, Taylor Swift's New 'Do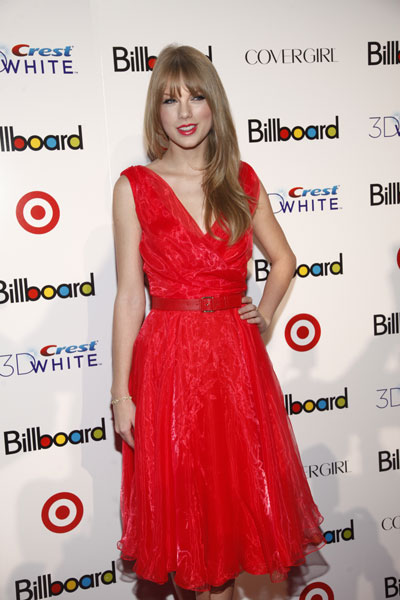 If you follow Beauty Blitz on Twitter, you know I spent Friday at the Billboard Women in Music Ceremony with sponsor Crest 3D White (which has won some of its own awards). Taylor Swift was there to accept her Billboard Woman of the Year award, but more importantly (in our world, anyway), she was debuting a new haircut that she'd tweeted a photo of the day before.
So what inspired the change? "I really wanted to try cutting bangs, and I showed up on a photo shoot and they wanted to do, you know, like clip in bangs and straight hair, and I just said, 'Why don't you just cut them?'" Taylor said. "I always seem to want to straighten my hair in the winter, I don't know why. It's just a winter thing. And I think I decided to go a step further this time."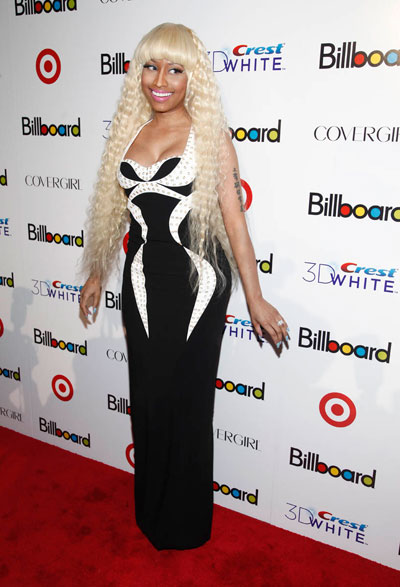 Meanwhile, Nicki Minaj, honored with Billboard's Rising Star award, rocked a wig that felt like an homage to Taylor's blonde waves - appropriate, since Nicki credited her fellow honoree with helping propel her highest charting single so far. "After Taylor Swift tweeted that [she liked the song], 'Super Bass' climbed up like 80-something spots the same day on iTunes," Nicki said in her onstage interview with Good Morning America's Robin Roberts. She also revealed her latest collaboration: a one-of-a-kind Nicki Minaj Barbie doll produced by Mattel and to be auctioned for charity this month.
I also met Katie Couric at the event before she took the stage for a Q&A with Taylor Swift, and I couldn't resist asking her what she's learned about looking good on camera - after all, she's been in front of one for most of her 30-year career. Her answer? "It's all about lighting, sister - it has nothing to do with makeup. That's the secret," Katie told me. That, and personality, of course. "I think being on camera reflects, actually, more who you are as a person than even what's on the outside. I know that sounds corny and cheesy, but I think if you're a happy person, that shows on TV, just as much as your lipstick shade."
Get the latest beauty news and inspiration!
Sign up for our newsletter to receive the latest from Beauty Blitz delivered straight to your inbox.