Not All Lash Curlers Are Created Equal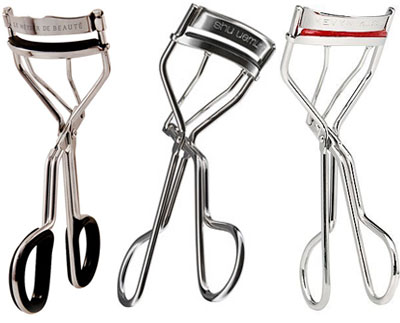 When I heard that Chanel is planning to release a new eyelash curler this fall, it piqued my curiosity. With what must be hundreds of curlers on the market already, what makes one unique (besides, in this case, the covetable interlocking C's)? Why do some eyelash curlers rack up beauty awards - like Shu Uemura's has - while others barely warrant a mention? I decided to compare lash curlers from three luxury beauty brands - Le Metier de Beaute, Kevyn Aucoin and Shu Uemura - to find out what makes one different from another.
SILICONE PADS: The softness of the silicone pads makes a difference when you curl your eyelashes. The LMdB curler's most distinctive feature is its super soft silicone pads. I was surprised when I first pressed down on the LMdB and felt it sink in. While Shu's lash curler offers a firm resistance, LMdB's is decidedly softer and more cushioned. Because of the softer pads, the LMdB delivers a more natural curl to your eyelashes. However hard you squeeze the handle (which you shouldn't, or you'd damage your lashes), you won't crimp your lashes to a 90-degree angle, which happens with the Shu Uemura if you press too hard. The Kevyn Aucoin falls somewhere in between. While its pads aren't as soft as the LMdB, it won't curl your lashes to a right angle like the Shu Uemura does.

ANGLE: Another way the LMdB curler differs from both the Shu Uemura and the Kevyn Aucoin is the angle in which it holds your lashes. LMdB's is made in a way that requires the curler to be pressed harder againstyour cheeks, but this makes it easier to reach to the hairs nearest to the lash line. The result is your lashes will curve higher. 
CURVE: The LMdB curler features a wider curve, which fits my flat eyes (which are so flat contact lenses refuse to stay put) well. The other two curlers tend to pinch at the sides when I try to reach as close to the lash line as possible. However, I can see someone with rounder eyes struggle to reach the lashes on the sides with the LMdB curler. As for the Kevyn Aucoin eyelash curler, I noticed that it is lesser in width, and is more curved compared to the other two, so it is much more suited for smaller, rounder eyes.
SPACE: Both the Kevyn Aucoin and the LMdB curler have a wider space between the silicone pad and the steel crimper, with Kevyn Aucoin's having the widest While this might not affect most people very much, I can imagine someone with tons of lashes (like Kim Kardashian) appreciating the extra space.
Ultimately, the lash curler is a subjective implement. It's not one-size-fits-all, even though all of them look almost exactly the same. The LMdB curler is quickly becoming my favorite, though I still reach for my Shu Uemura for when I want more dramatic lashes (these straight Asian lashes need all the help they can get). Kaitlyn, our beauty editor, favors the Kevyn Aucoin. If your current eyelash curler is not working for you, try out ones from different brands. You can rest assured there will be one that fits just right for you!
- Xiao, Intern

Keywords
Get the latest beauty news and inspiration!
Sign up for our newsletter to receive the latest from Beauty Blitz delivered straight to your inbox.