NYC's Most Coveted Celebrity Features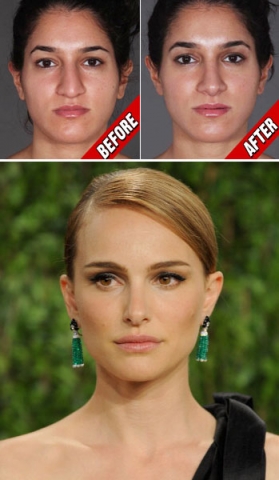 There was an episode of The Golden Girls where Blanche wanted her entire face redone after seeing what all of her sorority sisters looked like at her reunion. One scene showed her putting clippings of a magazine together to somewhat get a glimpse of her new face.
It's no surprise that women still bring in magazine clippings of their favorite stars to plastic surgeons, brow groomers and even dermatologists. According to the New York Post, women used to covet Nicole Kidman's nose and Jennifer Aniston's hair, but now they are longing for the "dark and sultry" look. Must-have celebrity features include Natalie Portman's nose, Megan Fox's brows, Angelina Jolie's lips (obviously), Anne Hathaway's hair, J.Lo's skin and cheekbones, Kim K's eye lashes and Julia's Roberts' smile. It's all about the brunette babes this time around!
If you put these features all together like Blanche, would you have one mega celebrity or what?
Read the entire New York Post article here.
Keywords
Get the latest beauty news and inspiration!
Sign up for our newsletter to receive the latest from Beauty Blitz delivered straight to your inbox.