FREE FOR YOU: Win a $1,000 Shopping Spree & Year of Gorgeous Skin!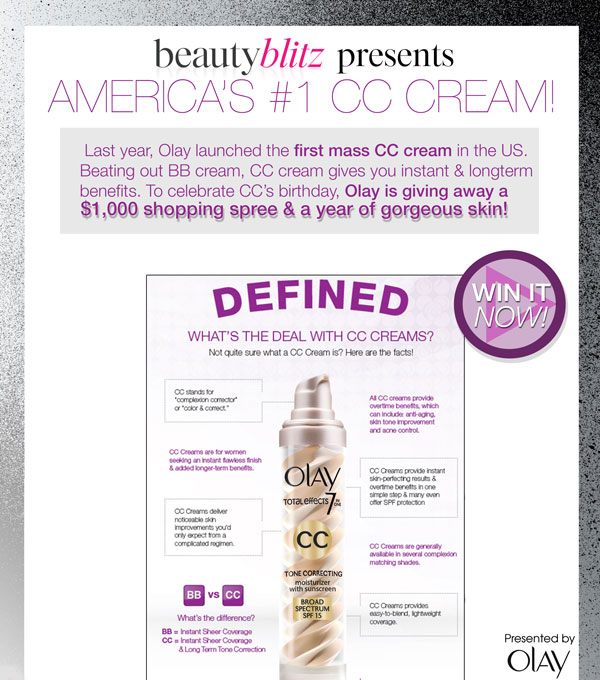 Want to have your most beautiful summer ever?
Beauty Blitz and Olay want to make that happen, so we're teaming up for this sweepstakes. One lucky reader will win a seriously amazing prize: a $1,000 shopping spree and an entire year's worth of gorgeous skin!
If you win this incredible prize, you'll get all the essentials for your summer, from festive cocktail parties to stylish beach gatherings. Best of all, signing up for this can't-miss contest is completely free and totally easy to do. To enter, leave a comment below telling us your best secret for surviving the summer in style. That's it! 
What's Included In the Prize?
$1,000 American Express gift card to spend on those must-have summer items you've been dying to slurge on (clothing, accessories, jewelry, beachwear and shoes)
1 year of beautiful skin, provided with 10 bottles of Olay's award-winning Total Effects 7-in-1 CC Cream in your shade

* * * * * * * * *
Why We Love Olay's CC Cream 
When BB creams made their way across seas from Asia, brands feverishly scrambled to launch a version. And we, in turn, spent days testing them all in search of that all-in-one beauty gold that a lot of brands promise, but rarely deliver. We always make it apoint to tell you, our dear readers, which product to buy. So when Olay upped the alphabet ante last year (the first-ever mass-market CC cream), we were thrilled to see that Olay outdid the beauty balm (BB) cream category by a landslide with the introduction of its Color & Correct (CC) creams. Our epidermis been grateful - and glowing - ever since. 
Olay Total Effects Tone Correcting CC Cream with SPF 15 is based on simple beauty math: Anti-Aging (AA) + Beauty Balm (BB) = Color and Correction (CC). This equation has put Olay at the forefront of a new category of products that not only provide at-the-moment skincare benefits like moisture, but cater to long-term skincare benefits as well. The Total Effects Tone Correcting CC Cream helps treat seven signs of aging while protecting skin from UV rays to ensure tone correction and a more youthful complexion over time. 
So what does Olay's CC cream have that BBs (and other CCs) lack? The answer is in the brand's exclusive Essential Glucosamine Complex which contains two special ingredients that work in tandem to reduce the appearance of facial hyperpigmentation (based on a clinical study published by Dr. Alexa Kimball in the British Journal of Dermatology). First, niacinamide offers major hydration and softens while providing the skin with a strong moisture barrier to get rid of red, blotchy skin. Second, N-acetyl glucosamine works with niacinamide to improve the skin's moisture barrier to give your skin a more even tone and youthful look. You can thank this unique formula for your luminous complexion, even skin tone and overall younger and healthier-looking skin. 
Olay Total Effects Tone Correcting CC Cream is available in three perfect-match shades, Fair/Light, Light/Medium, and Medium/Dark for sheer, illuminating coverage without the cakiness. Plus, don't forget about the SPF 15! The lightweight formula with UV protection makes this the perfect summer makeup. 
We can sit here all day and tell you about how good Olay Total Effects Tone Correcting CC Cream is, but you don't have to take our word for it. Just ask America. Based on Nielsen Food, Drug and Mass sales, Olay's CC is America's number one choice. 
Get the latest beauty news and inspiration!
Sign up for our newsletter to receive the latest from Beauty Blitz delivered straight to your inbox.