Buy Now: Oribe's New Violet Shampoo and Conditioner for Blondes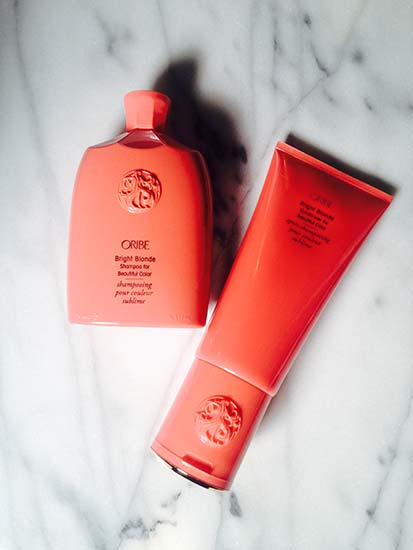 I'm just going to start by saying, it's about damn time Oribe gave us blondes some extra TLC! The luxe haircare brand has finally introduced Bright Blonde Shampoo and Conditioner for Beautiful Color, and all other violet products can just take a seat. 
First you've got the brand's signature complex (watermelon, lychee & edelweiss flower extracts) to protect hair from oxidative stress, photo-aging and loss of natural keratin. Then, the brightening complex of lemon, ginger root and chamomile extracts keeps luminosity and tonality in check. The pure violet pigment and reflective pearl keep brass far, far away (just how I like it), while coconut and corn-derived cleansers provide a squeaky clean without stripping color. 
Of course, Bright Blonde smells as delicious as the rest of Oribe's products. The brand's signature scent features notes of 
Calabrian bergamot, white butterfly jasmine and sandalwood that's so good, it got its own EDP.
 And just look at the packaging! I'm about to start a petition for the first-ever Oribe nail polish with that beautiful coral shade. Who's with me?
The Oribe Bright Blonde Shampoo ($44) and Conditioner ($46) for Beautiful Color are available online now. 
Keywords
Get the latest beauty news and inspiration!
Sign up for our newsletter to receive the latest from Beauty Blitz delivered straight to your inbox.