Pat McGrath Turns Kim Kardashian West Into Cleopatra for The Violet Files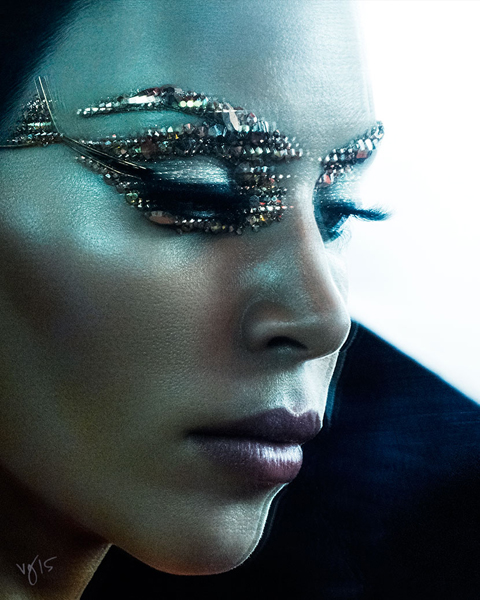 Kim Kardashian West was stoked to work with McGrath for the latest cover of
The Violet Files
, an epic editorial site created by beauty guru Cassandra Grey. This is the first time the two have worked together, which is surprising considering the mass of hairstylists and makeup artists dying to work with the reality star. For this installment, McGrath transformed Kardashian West into Elizabeth Taylor a la Cleopatra for one of the most beautiful editorial
The Violet Files
has ever debuted (according to us). 
"I would have done anything — I would have trusted Pat's vision no matter what she wanted — but I was really excited that it was the Cleopatra vibe," said Kardashian West of the collaboration with McGrath. 
But this was no ordinary makeup application. McGrath is known to use a variety of tools to create beautiful works of face art, and it's not always actual makeup. 
"Elizabeth Taylor's makeup in Cleopatra has been re-created countless times, but for Kim I wanted to create an interpretation that has never been done before, a futuristic 3D version," said McGrath. "I wanted to portray a luxurious decadence by using elements of ornate facial jewelry constructed into shapes that pay homage to Egyptian culture, and of course to the rich exotic character that Taylor portrayed in this role." 
The look revolved around the concept of makeup as jewelry. So instead of using eyeshadow, McGrath used ground lapis stone and gold pyrite flecks to get a three-dimensional gold metal vibe. "I wanted the images to be luxurious, evoking a modern take on the opulence associated with Cleopatra's makeup," McGrath added. 
Feast your eyes on the beautiful work and get inspired to look outside the makeup bag for your next night out. Read the story
here
. 
All photos by Ben Hasset for The Violet Files. 
Keywords
Get the latest beauty news and inspiration!
Sign up for our newsletter to receive the latest from Beauty Blitz delivered straight to your inbox.