Pick of the Week: Desire by Dolce & Gabbana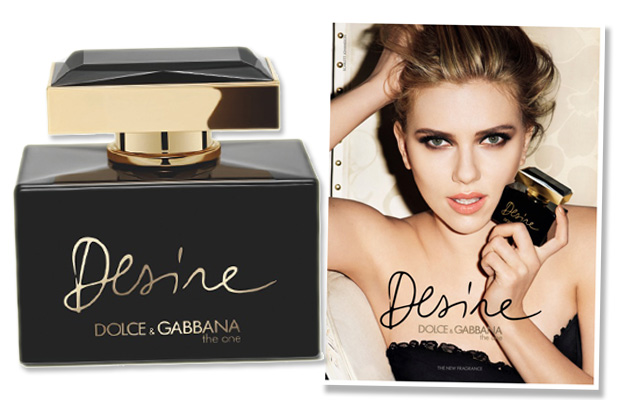 Confession: I'm currently typing under the influence of Desire by Dolce&Gabbana. 
The name alone reminds me of
one of my favorite U2 songs
. And the sleek gold and black packaging is like my wardrobe reincarnated into a bottle. How cool would the cap be as a belt buckle or cuff bracelet?
But at a closer look and sniff, the initial draw is validated by an intense scent that won't knock you out at your desk. (Scents actually can knock you out. I wasn't just being dramatic. A master perfumer once told me that some heavy notes can actually have a narcotic effect on the brain. That explained a lot of sleepy afternoons at my desk after rerporting fragrance features at InStyle.
Plus, I love a personal touch. The logo "Desire" is actually an inscription of Stefano Gabbana's handwriting. 
The brand is heralding this scent as a "new olfactive statement," which includes top notes of mandarin, lychee, bergamot and lily of the valley. The heart or middle notes consist of Indian tuberose, jasmine and plum nectar. And the base notes are vanilla-infused caramel (delish!), sandalwood, musk and cistus labdamnum. Not sure what that is? Same. But I looked it up. It's a resin that used to be collected by combing the beards and thighs of goats and sheep that grazed the cistus shrubs. 
Here's the whismsical, sexy inspo for the scent: "Desire is not to be put on show; it is to be kept hidden like a precious jewel, until the moment its splendor shines. It's the moment that has the power to change everything. Desire by Dolce&Gabbana evokes a mysterious world of light and shadows, of temptation and seduction. An intimate, personal sphere in which each woman decides on whom to lay her gaze, a place where the line between instinct and desire is faded and blurred."
And then of course, there's Scarlett Johansson smoking up Terry Richardson's lens with black lace and smudgy eye makeup.
Desire by Dolce & Gabbana eau de parfum, available exclusively at 
saks.com
Keywords
Get the latest beauty news and inspiration!
Sign up for our newsletter to receive the latest from Beauty Blitz delivered straight to your inbox.