Pick of the Week: Elemis Pro-Radiance Illuminating Flash Balm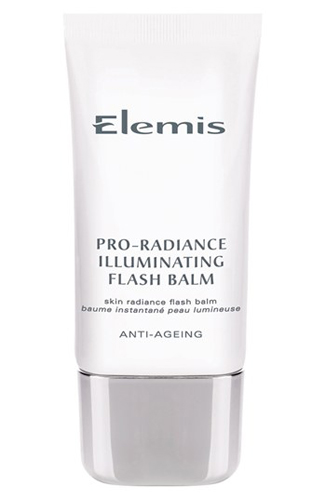 My obsession with lipstick and nail polish has been coming in second place to skincare recently. It might be because the last time I had a facial with my mom, an esthetician, she told me that I am officially getting old (ehem, I'm not even 25 yet). My skin used to be super oily and had a serious tendency of breaking out. Now, my mom says I'm slowly losing moisture, which is a sign of aging and a cause of fine lines and wrinkles. Eek! But, because my skin used to be so oily, I have this pet-peeve for dewey skin. It looks great on celebrities and everyone else but me. I just prefer my skin matte. 
Now that summer is right around the corner, I've been longing for a hint of radiance to my matte complexion. Unfortunately, everything I've tried has made my skin too dewey for my liking. Until now. The Elemis Pro-Radiance Illuminating Flash Balm is the first moisturizer I've tried that gives me that perfect hint of radiance and dew (and then some). The multi-tasking, hybrid moisturizer is everything I've been looking for in a face cream. It offers a healthy glow without looking too dewey or greasy, it keeps my skin hydrated all day long, it's the perfect primer to my BB cream, and it's anti-aging. What more could a girl need? 
The Flash Balm is made with ingredients like purple orchid, noni extract and silk mica that work together to give your skin smoothness, radiance, and a matte finish (but not too matte!). I especially can't get enough of the calming scent of neroli, bitter orange, bergamot and lemon melange. #Yum! It flatters the skin without sparkling under sunlight (hate that). The rich formula sinks into the skin in seconds leaving no trace of anything, except a beautiful sheen, behind. It's the perfect product for anyone looking to add some dimension to their preferred matte complexion. 
The Elemis Pro-Radiance Illuminating Flash Balm is available for $60 at TimetoSpa.com and Nordstrom now. 
Get the latest beauty news and inspiration!
Sign up for our newsletter to receive the latest from Beauty Blitz delivered straight to your inbox.