Polished But Dangerous at Jen Kao - NYFW Spring 2012
All photos by Mat Szwajkos for Beauty Blitz
Jen Kao's spring collection had a vibe that was equal parts grunge and polished, and this idea translated into one of the coolest beauty looks we saw all season.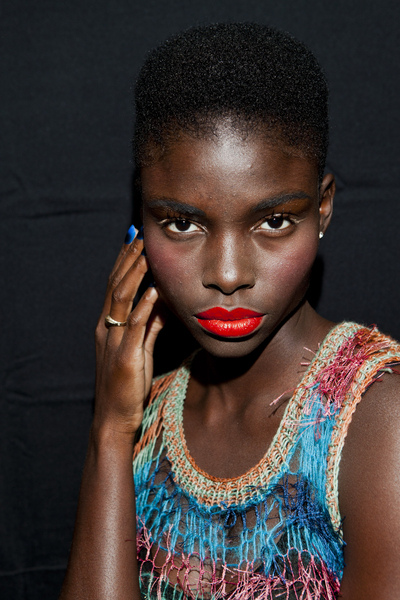 Charlotte Willer, Maybelline's Global Makeup Artist, created a makeup look that leaned toward the polished, with a bit of an playful vibe thanks to a flick of gold liner on eyes (Eye Studio Color Plush Silk Eyeshadow in Give Me Gold) and a bold, orange-red lip (Color Sensational Lipcolor in Coral Crush around the outside of the lips, with Are You Red-dy in the center). Eyes also got four bits of false lashes and a coating of The Falsies mascara, plus Baby Lips Lip Balm (out in October) on the lids for gloss. Charlotte used Fit Me! Foundation and Powder to create a flawless complexion, and Fit Me! Blush in Medium Coral on the apples of the cheeks.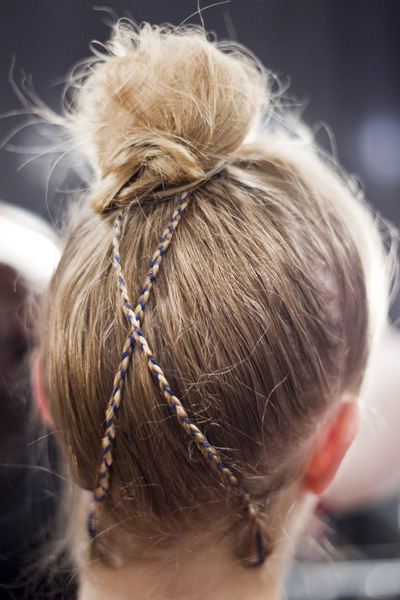 Hairstyles were "a bit of glam-grunge, inspired by Tank Girl" explained Peter Gray of Cutler salons. The look featured an undone, off-center bun on top of the head with two tiny braids with embroidery thread (each model had a different color) going up the back. The style "looks like it's fastened down" by the braids, in Peter's words. To get the look, he started by prepping the hair with Redken Full Frame 07 Mousse from the mid-lengths to the ends: "You need some guts in the hair in order for the hair to bounce and have this soft feeling." He sectioned the hair off and created the braids, then twisted hair into a top knot, fastening with U-shaped pins. He finished by messing up the bun a bit and coating the style with Redken Fashion Work 12 spray.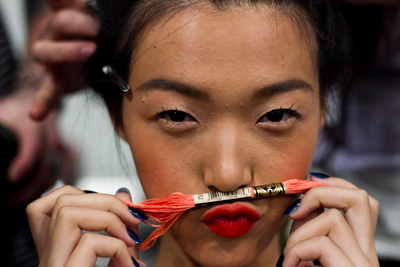 For nails, CND's Wanda Ruiz created a "lethal love" manicure, riffing off Jen Kao's drag race girl/Romeo & Juliet inspiration. Wanda started with a coat of black on oval-shaped false nails and airbrushed one of four colors (CND Midnight Sapphire, Rouge Red, Green Scene or Anchor Blue) on top to create an ombre effect. To DIY the look without an airbrush, Wanda recommends applying a dark polish from the cuticle to the nail's halfway point, then brushing a brighter color from the middle of the nail to the tip. Before the colors set, brush a thin layer of topcoat over both colors to melt them together.
Keywords
Get the latest beauty news and inspiration!
Sign up for our newsletter to receive the latest from Beauty Blitz delivered straight to your inbox.