Toss Those Long Johns! Win $300 of My Winter Essentials.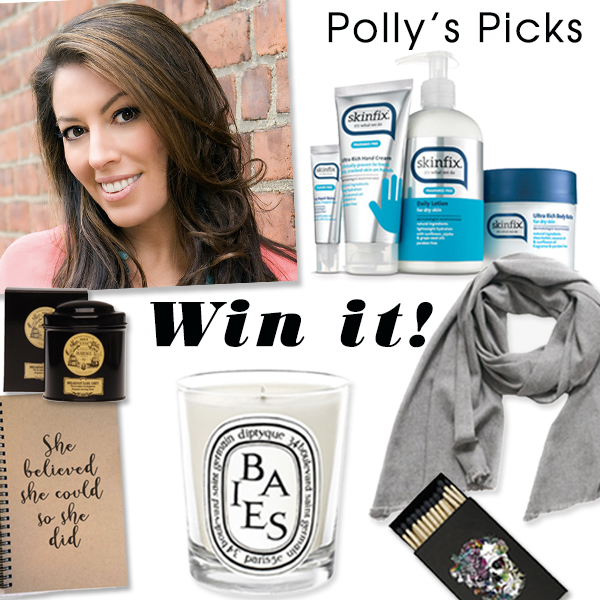 For those unfamiliar, I'm rather finicky about cold-weather fashion. Read: diva. I insist on importing candles, tea and lavender from France. Layers must be cashmere, but only if woven according to certain specifications. (A word to the wise: don't ask me about that if you have to be somewhere.) Each pocket, handbag and tote contains at least three varieties of rich, buttery cream. These items will set you back a few Benjamins, which you might think is semi-ridiculous fashion frivolity. But I cruise happily through airport TSA and NYC streets all winter - and none of these brands is filing Chapter 11 - so my extravagances earn their keep.
Lucky for you, Skinfix partnered with Beauty Blitz to give two of you my top winter essentials.
Here's what you need to know about scoring serious cadeaux.
To Enter:
1. "Like" – Head over to Skinfix's Instagram page and "Follow" it.
2. Comment – Leave your best winter skincare tip in the comments under my posts here this week.
3. Wait – We'll announce the winners on Monday morning!
Prize Package Includes:
Hand-woven cashmere scarf. Made of 100% cashmere yarn, the lightweight shawl can be draped over your shoulders or wrapped around your neck as a soft, gathered scarf. I keep one at my desk, in my handbag and always in my carry-on.
Diptyque Baies candle. My favorite scent in the entire world. A bouquet of roses and blackcurrant leaves. This flamer burns for 20 hours - that's a lot of candlelit date nights!
Wooden matches. There's no better way to strike than with a long, sturdy wooden match. I love DL & Co.'s chic skull design. 
Monogram lavender sachet. I'm thoroughly hooked on the scent of organic lavender. Friends actually bring them back to me from Provence. They're highly hoardable. And amazing for last-minute aromatherapy. Give one a squish under your nose, inhale-2-3-4, exhale-2-3-4. You'll go from zero to Zen immediately. This one is made from organic lavender buds, hand-stamped with your first initial.
Skinfix Healthy Skin collection. These products are staples in my beauty regimen, especially during the cold winter months in New York. The formulas instantly banishe dryness with luxurious, natural ingredients. I love using the rich butters, lotions and balms packed with powerful antioxidants and emollient oils to create the ultimate moisturizing experience. 
Mariage Frères Marco Polo tea. This tea from Paris is exquisite. I save it for afternoon breaks or lingering post-dinner sips. It's aromatic, almost like perfume, but so savory and unique. You can repurpose the chic black tin to hold makeup brushes or crayons. 
Art nouveau tea mug. A white ceramic mug for tea makes each sip feel decadent. Winners will get a cup personalized with their first initial.
Journal notebook.  Always jotting down thoughts and ideas.
The contest is open today through Thursday. To learn more about Skinfix products, visit their site. Good luck!
Get the latest beauty news and inspiration!
Sign up for our newsletter to receive the latest from Beauty Blitz delivered straight to your inbox.