This Regimen Helps Erase Every Trace of Acne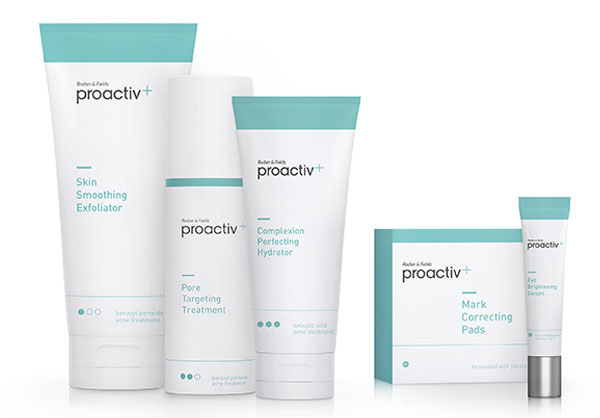 I've struggled with acne as a kid; and even now, as an adult, there are reminders of those troubling days on my face. While my skin is essentially pretty clear, my large pores, visible blackheads and minor scars are still the reason why I can't leave the house without a veil of tinted moisturizer. I'm 27 and already using anti-aging and brightening treatments on my face to ward off wrinkles and dull skin (as anyone reaching their 30s is concentrating on). But most of the products I use don't do anything to help me get rid of that ghost of acne's past for good. 
To tell you the truth, I've never had the urge to use Proactiv. I assumed it was too aggressive for me and would dry out my skin, leaving it dull. There were also rumors flying around that once you start using Proactiv, you can't stop. Because the minute you stopped, the acne would come back worse than ever. I don't know why I believed this urban legend; I guess you can say I was young and naive. It wasn't until a box of
Proactiv+
(not to be confused with Proactiv Solution, a different regimen) showed up at my desk that I felt the urge to settle these rumors once and for all. 
I began using a variety of Proactiv+ products during the special time of the month where my skin was at its worst. Ladies, you know that time of the month. I had zits all over my chin and neck (which has become a popular area on my face for them to show up). I put all my anti-aging and brightening products aside and vowed to exclusively use Proactiv+ for a few weeks. The line promised not only clearer skin, but also to erase any signs of having acne in the past. Bold statement, I know. The minute I applied the products for the first time, and really felt them working, I knew I made the right decision. My skin looked and felt better the next morning, and it wasn't even slightly dull. Here are the products that had me at hello. 
Skin Smoothing Exfoliator
This creamy and super gentle scrub has the perfect amount of exfoliating components to wash away dirt, oil and other impurities. You can feel the prescription-grade benzoyl peroxide and micro-granules getting deep down into your pores to kill acne-causing bacteria. Unlike other acne scrubs, this one features soothing moisturizers that leave skin soft and hydrated. Not once did I feel my skin tighten or dry up. 
Mark Correcting Pads
I'm a sucker for a skin-beautifying wet wipe (they're just so easy!), and these are one of the best I've ever used. They're soaked in glycolic acid to help erase post-acne marks and even out your skin tone. They don't burn or dry out skin, either – but you do feel them working on contact. Using these right after the Skin Smoothing Exfoliator had my face feeling squeaky clean.
Pore Targeting Treatment 
Whenever I see a product promoting pore reduction, I go for it! I hate my pores and am constantly writing about products that shrink, tighten and hide the tiny craters on my face. Naturally, I had to use the Pore Targeting Treatment, a lightweight, serum-like emulsion that delivers micro-encapsulated benzoyl peroxide right into pores (where acne starts). When I applied it, my skin started to tingle, which had me worried a bit. But I went to sleep hoping that I wasn't going to wake up with irritable skin. All was fine the next morning, and my skin looked noticeably clearer. Obviously my pores and zits didn't disappear immediately, but there was still a visual change so I was satisfied. 
Blackhead Dissolving Gel 
This is one of the quickest and most effective masks I've ever used. The clear, jelly-like formula is blended with salicylic acid to melt away blackheads and other impurities. You only have to leave it on for five minutes; and use it once or twice a week. The results are amazing. And, again, my skin didn't feel dry what so ever. What really had me excited was the lack of blackheads on and around my nose; they truly disappeared! 
I know that all skin (and acne) is not created equal, so I can't promise that this system will work on everyone. But it is sure worth a try. And guess what; I stopped using it for a few days to see if my skin would go haywire and it didn't. So I can officially say that I've squashed all the rumors once and for all. Get your acne regimen
here
. 
Get the latest beauty news and inspiration!
Sign up for our newsletter to receive the latest from Beauty Blitz delivered straight to your inbox.